Mandela Barnes Delivers WFP State of the Union Response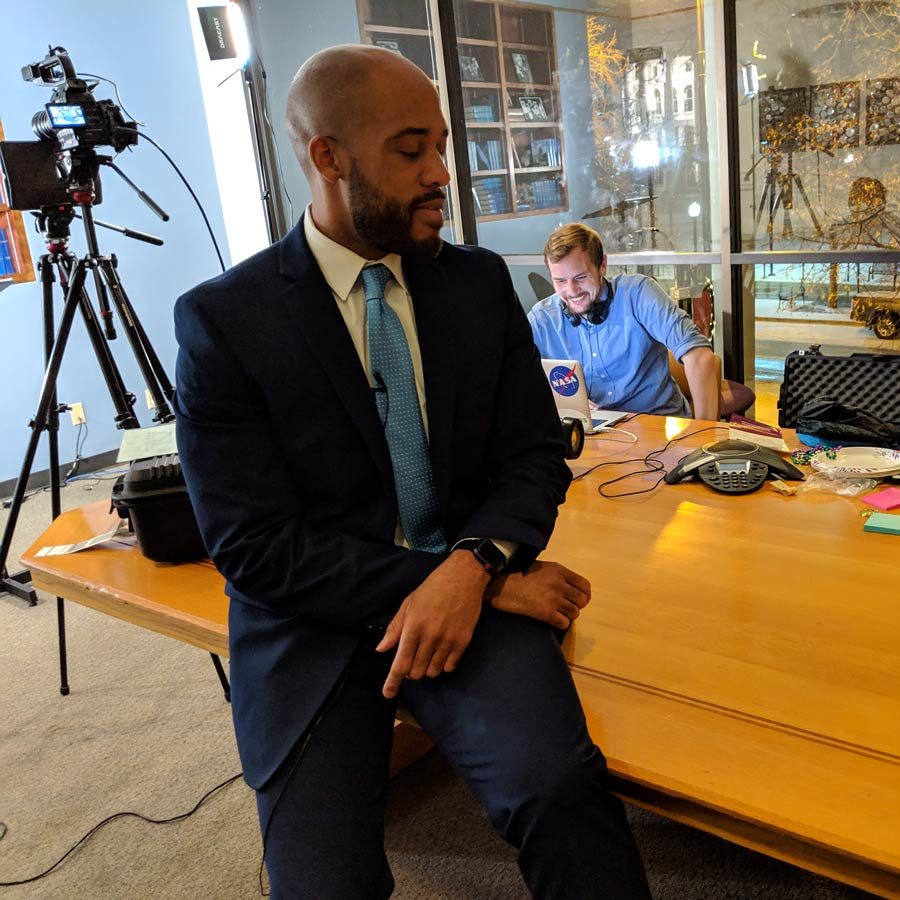 2019 WFP State of the Union Response
Tuesday February 5, 2019
Remarks as delivered by Wisconsin Lt. Gov Mandela Barnes:
Good evening. I'm Mandela Barnes, the Lieutenant Governor of the great state of Wisconsin and the youngest Lieutenant Governor in America. I'm also a longtime leader in the Working Families Party, and tonight I'm honored to have the opportunity to deliver the Working Families Party response to the State of the Union.
I was born in Milwaukee in the 53206 zip code. It's the poorest zip code in the state, and the single most incarcerated in the nation.
I grew up the son of a public school teacher and a factory worker in the United Auto Workers union. They taught me the value of hard work and the power of standing shoulder to shoulder with your coworkers and with your community to demand what's right. It's because of them I'm standing in front of you today.
Before I respond to the President's speech, I'd like to start by recognizing Stacey Abrams and her historic speech tonight. There are few people in this nation who can convey with such force, a vision of a nation in which all are included and all are worthy. Stacey, you are an inspiration to us here in Wisconsin, and an inspiration to the entire country. We're so proud to say you were born here in the state.
The Working Families Party was an early, enthusiastic support of Stacey's run for Governor and I believe that if not for deliberate attempts at voter suppressions, she would be Governor today.
Now, my fellow Americans: it is clear our country is in crisis. It is a moral crisis.
In our nation, the very wealthiest got another tax cut — some of the richest people who ever lived — but poor kids in places like Flint, Michigan or Milwaukee, Wisconsin can't even count on clean drinking water.
In our nation, the President's top priority is to build a racist border wall — instead of building the clean energy economy we need — immediately — to keep our nation safe for our children.
In our nation, we spend more than any other on healthcare, but we can't figure out how to make sure everyone gets the care they need, because care is out of reach or too expensive for far too many people.
We incarcerate more people than any other nation, but we can't figure out how to ensure high quality education from pre-K through college or trade school, for everyone, no matter where they come from.
We need a government that works for the many. But what we have is Trump, and an administration run by and for a small handful of billionaires and insiders that don't seem to care about the rest of us.
This is an administration that has literally thrown children in cages and separated families. They shut down the government, leaving hundreds of thousands of workers without pay, forcing working people to resort to food banks, shutting down key services — we witnessed a tantrum because they wanted a border wall. And we got a shutdown that cost $3 billion. All because Trump can't tell the difference between the perpetrators of violence and the victims fleeing to our nation seeking safety. And Trump may shut down the government to demand a Wall yet again. As he lurches from crisis to crisis, he is getting desperate.
What we heard from Trump tonight won't help solve the real crises Americans are facing. We heard rhetorical gestures at unity tonight, just like a year ago — but that was a lie then, and it's a lie now, and it won't change who Trump is or how he governs. We heard Trump tell dangerous lies about women's healthcare that will threaten lives.
Trump has touted the economy. That might be true for the richest, who continue to get richer, but the wages of most people who work for a living have barely seen a meaningful increase in a generation — and Trump's tax cut for the wealthy simply hasn't helped working families — it's helped the rich, just as it was designed to. The majority of Americans say they couldn't pull together $500 or $1000 in an emergency without going into debt.
But the wealthy few have spent billions on politics, drowning out the voices of ordinary people, and rigging the rules to make themselves ever richer.
Meanwhile, Republicans work hard to suppress the vote and disenfranchise millions of people; all to entrench their control. Because they know that when the people vote, they cannot win.
A few weeks ago, in a speech on Dr. Martin Luther King Jr. Day, I told the story of the freedom fighters in my hometown of Milwaukee WI. They built a multiracial movement for justice. They were people like Ezekiel Gillespie, who in 1865 had the audacity to say "I'm going to go vote, watch me;" a revolutionary act at the time that paved the way for our fight today. His case went all the way to the Supreme Court, but HE WON. It's unbelievable to me we are still fighting for the same right to vote our ancestors did, more than 150 years ago.
Finally, and maybe most importantly, according to the best science available, we have just twelve years to address climate change.
I know we can rise to those challenges. We've done it before, and we'll do it again. For me, the biggest cause for hope is the people who are stepping up and speaking out, marching and organizing in communities around the country. People who are continuing the proud tradition of organizing to make this country rise to the promise of our democracy. I got my start in organizing, I couldn't be more proud or excited by the surge of new Americans getting involved. Our democracy is not a spectator sport.
Whether it's young people demanding action on climate change or gun safety, or survivors of sexual assault who confronted U.S. senators over their votes for Brett Kavanaugh, or teachers striking for fair working conditions and a better education for their students from West Virginia to Los Angeles, whether its immigrants and Dreamers fighting for the place they call home, or people standing up to demand that Black Lives Matter.
And we aren't just taking to the streets, we are wielding power at the ballot box.
President Trump tried to make the 2018 midterms about fear. He tries to divide working people from each other, so we won't stand together. Many Republicans up and down the ballot embraced it. It wasn't dog-whistle racism, it was yelling-out-loud racism, playing to people's worst instincts and fears, not our hopes for a better future. But it didn't work this time.
I see hope in a new class of dynamic leaders in Congress, who are making this the most progressive Democratic caucus in history. Many were called unlikely candidates, but they are the most likely Americans — and they represent so many people who haven't always been heard. They are young and smart and hungry to make a difference. People like Alexandria Ocasio-Cortez, Rashida Tlaib, Ilhan Omar, Ayanna Pressley, and Jahana Hayes. They're bringing big, bold ideas to Capitol Hill, and they are changing the status quo in DC.
I see hope beyond Washington, DC, where progressives picked up statehouses and ended Republican control of our state governments. I'm proud to have been part of the team that defeated Scott Walker here in Wisconsin. Now we are led by my friend, Governor Tony Evers: a public educator and experienced public servant who pledges to invest in our schools and our families, because he knows what's best for our kids is what's best for our country.
Around the nation, I saw people who never thought that they could run for office, from all backgrounds, step up, not because they were groomed for it, but because they were called to it. Ordinary people who are also extraordinary people.
People like Julie Kushner, who started her career as a secretary and then organized her coworkers, ultimately becoming a leader in the United Auto Workers union, the same union my father was in, as well as a founding member of the Connecticut Working Families Party. Last year, she retired from the union — and ran for state senate in Danbury, Connecticut, winning a seat that had been held by Republicans for more than twenty years. There are so many stories like hers.
Last year, remarkable progressive WFP candidates defeated Republicans around the nation. And in some case, they also stood up to Democrats who refused to do the people's business — and won.
I see hope in the historic candidacies of Stacey Abrams in Georgia and Andrew Gillum in Florida. Their groundbreaking campaigns energized progressives and they changing the face of politics in America.
Tonight, Stacey Abrams spoke powerfully about her family's story — about struggling, bone tired to make ends meet — it's an American story. She also spoke about issues we don't always hear about in mainstream dialogue, like the alarming rate of mortality for Black mothers. We are lucky to have her voice. Thank you Stacey.
The fact that Stacey Abrams delivered the Democratic Party's response to the State of the Union is proof that she and candidates like her are the future of our movement.
Let me lay out the path in front of us.
We need a movement that sees our fights for economic justice and racial justice and climate justice and for a real and reflective democracy as all bound up together. Because this should be a country where everyone can thrive. Our movement seeks not only to change what is possible, but what is expected. We must commit ourselves to an America that works for the many, not the few. We are fighting for our families, and we must commit ourselves to leaving a better world for our children.
That's why we'll be investing in education this year in Wisconsin, and why Governor Evers is naming 2019 the year of clean water in our state. Because we are called to leave the world better than we found it.
We need to make it easier to vote in this country, not harder. We need to unrig the rules of our democracy and undo decades of gerrymandering, and end big money's power in our politics with public financing of elections.
We need to make it easier for people to join unions, that can fight for fair pay and good benefits.
We need to make healthcare a universal right in this country, not a privilege for those who can afford it.
We need to ensure everyone can get a quality education, from pre-K through college, by guaranteeing free public higher education.
We need to make sure that everyone can earn a liveable, family sustaining wage they can actually live on. That starts with a $15 minimum wage.
We need an immigration system that treats all people with dignity and respect. That says no human being is illegal. In our states, we can start by making sure immigrants have access to drivers licenses and in-state college tuition. Because they are part of our community too. But Congress must act to create a path to citizenship, instead of doubling down on a militarized border.
We need to repair damage done by mass incarceration and the war on drugs, legalize marijuana, and expunge the records of people convicted under outdated laws.
We need a massive investment to bring our nation into the 21st century — on the scale of trillions of dollar — which will create millions of jobs along the way. It's the only way to get us off of fossil fuels and stop climate change.
And we need to make sure everyone — especially the powerful and the privileged — pay their fair share of taxes. As we all know, the top federal tax rate on the wealthiest was 70% a few decades ago.
If the success in 2018 gave us reason to hope that this path is possible, the next two years will give us an opportunity to realize that hope. We can turn the page on Trump, build on gains in the states, and begin the hard work of making this country work for everyone who calls it home.
But doing that calls on us to double-down on our organizing. For we are only mid-stride on the march for justice. It requires us to build a mass movement to take back state houses, Congress and the White House — and filling those bodies not just with Democrats but with energetic progressives who have a clear eye on where we need to go — and people standing with them to back them up every step of the way.
Our work happens neighborhood by neighborhood, city by city, state by state. By organizing communities, and by identifying, recruiting, training, and electing everyday Americans who are also extraordinary, like so many of you are — educators, autoworkers, nurses, bartenders and more.
That's the work the Working Families Party was built to do.
I was a member of the Working Families Party before I ran for Lieutenant Governor because its committed to building the America we all want to see.
I hope you'll join me and the Working Families Party, and be a part of this movement, by texting WFP to 738674.
Thank you and goodnight.