Working Families Party endorses Jessica Cisneros for Congress in Texas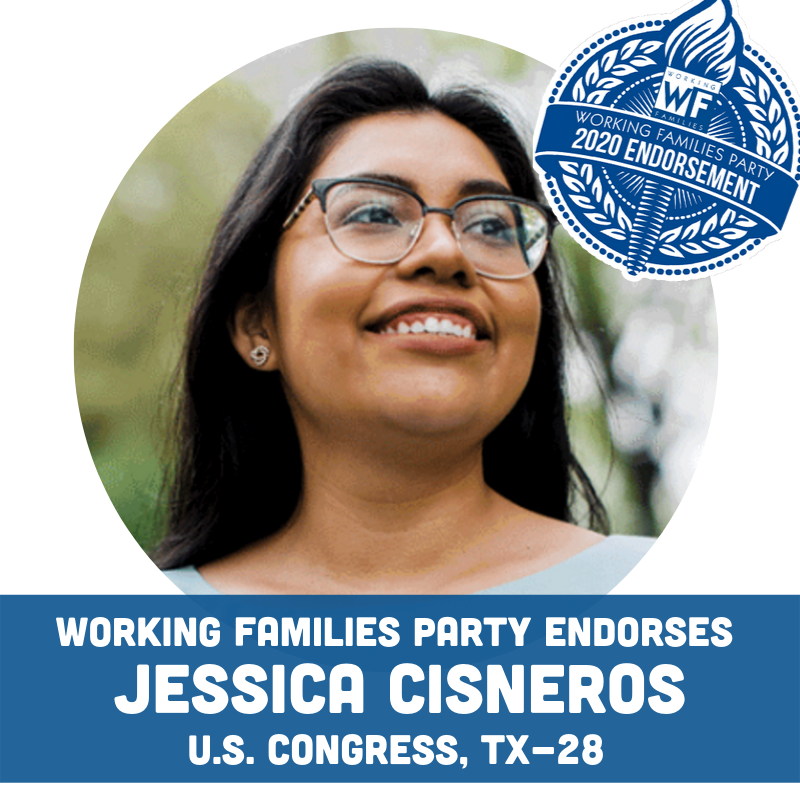 The Working Families Party today announced its endorsement of Jessica Cisneros for the Democratic primary in Texas's 28th Congressional District. Cisneros is challenging conservative U.S. Rep. Henry Cuellar (D-TX). It is the WFP's first endorsement of a primary challenge to a sitting Member of Congress in the 2020 election cycle.
"The Working Families Party has been a force for progressive change in Texas and across the nation, and I'm so proud to have their support," said Cisneros. "I look forward to fighting alongside the WFP to make South Texas truly work for the many, and not the few."
Cisneros is a 26-year-old immigration and human rights lawyer. The daughter of migrant farm workers, Jessica is running to be a champion for working families in Washington — by fighting for a $15 minimum wage, getting big money out of politics, and Medicare for All. She has refused to take any corporate PAC money. Rep. Cuellar is known as one of the most conservative members of the House Democratic Caucus.
"Jessica represents the voters of her district in a way that a comfortable conservative like Henry Cuellar never could," said Maurice Mitchell, national director of the Working Families Party. "We need young, principled champions like Jessica in Congress, who will fight for the kinds of big structural changes that will lift up working people in Texas and across America."
The Working Families Party is a grassroots progressive political party that fights to make our country work for the many, not just the few. WFP recruits, trains, and elects the next generation of progressive leaders to office. In September, the WFP made major headlines with its endorsement of Elizabeth Warren in the 2020 presidential primary. In August, the WFP endorsed the members of the "Squad" for reelection. It has also endorsed New Mexico Secretary of State Maggie Toulouse-Oliver in an open U.S. Senate primary.
The Texas WFP, established just two years ago, has already established a track record of electoral success. This year, the WFP helped to elect Stephen Mason as the first Black mayor of Cedar Hill, as well as council members Dinah Marks (D-Desoto), Tartisha Hill (D-Balch Springs), Racheal Hill (D-Lancaster), and Adam Bazaldua (D-Dallas). In 2018, the Texas WFP helped elect state house candidates Julie Johnson (HD-115), Ana Maria Ramos (HD-102), and Rhetta Bowers (HD-113), and County Judge Lina Hidalgo (D-Harris.), as well as city council members Shaunte Allen (D-Glenn Heights) and Kay Brown-Patrick (D-Desoto).
Nationally, this year the WFP is driving a progressive wave in local elections across America. The WFP helped elect longtime tenants organizer and progressive champion Jumaane Williams as Public Advocate in New York City, swelled the ranks of Chicago city council progressive caucus, put public education champions on the school board in Milwaukee, helped insurgent Latinx LGBTQ activist Candi CdeBaca oust a longtime incumbent on the Denver City Council, and elected other council members from Morgantown, W.Va., to Phoenix. In 2018 it helped to drive the progressive wave up and down the ballot, flipping state senate chambers in New York and Colorado, and ousting Gov. Scott Walker (R-Wis.).