Survey: Sixty-five percent have not received hazard pay during the emergency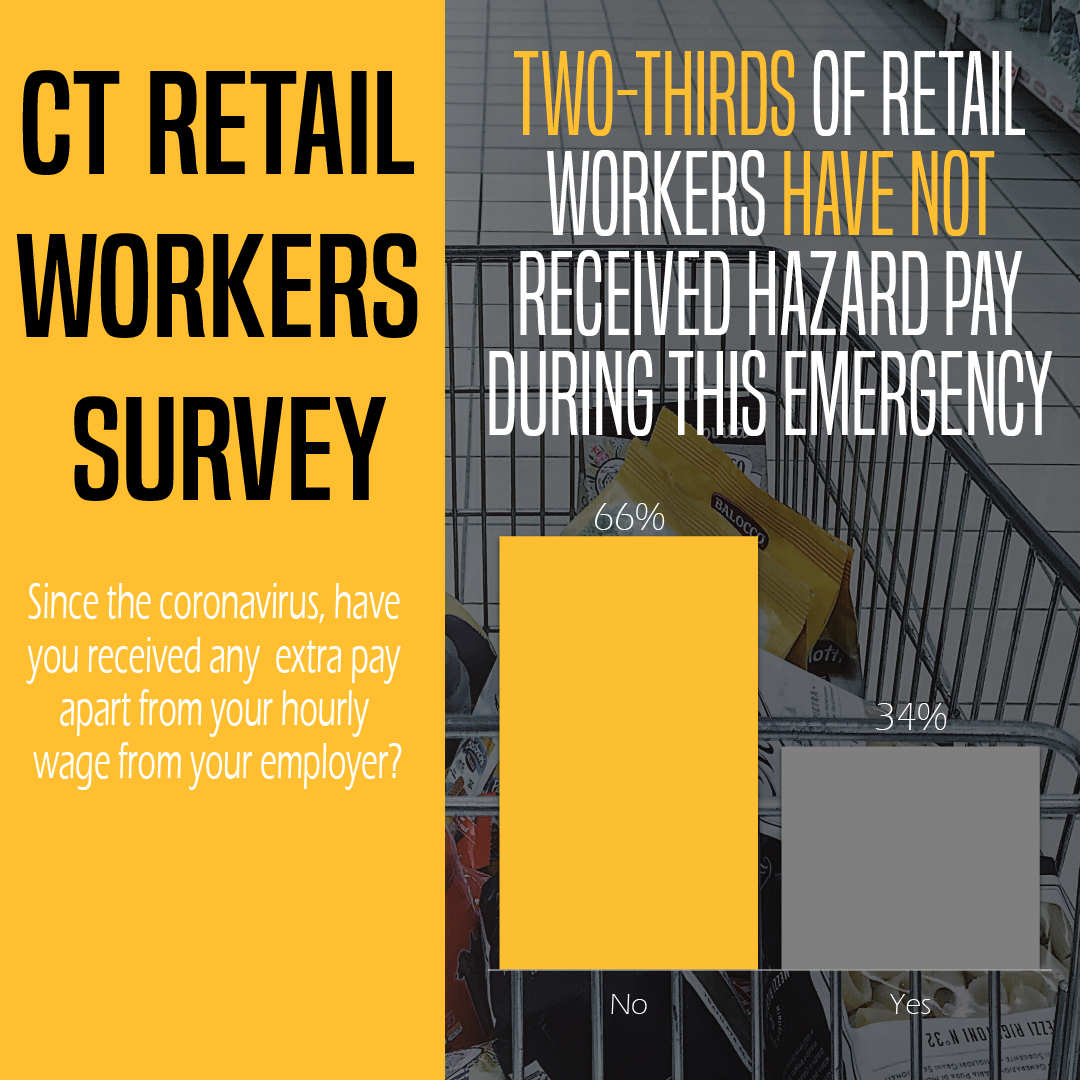 HARTFORD, Conn. – According to a new poll released today by Connecticut Working Families, barely a third of retail workers (35%) have received any kind of additional compensation or hazard pay in response to the state of emergency, despite being employed in businesses deemed as essential.
Link to the report: http://bit.ly/CTFairWorkSurvey
The online poll, a non-random sample of 164 Connecticut retail employees provides an overview of the experience of working in retail at the onset of stay at home recommendations as a result of the coronavirus outbreak.
The survey found that frontline workers have experienced an extraordinary amount of instability during the past few weeks. Almost half of respondents (48%) had increased their weekly hours, while 23% were working fewer. Those employed now often have more erratic schedules and unexpected shift changes, as businesses struggle to adapt. The survey found that 42% of respondents said that they have now less control over their schedules, and 75% have last minute changes to their schedule at least once a week.
"Retail workers didn't sign up to be first responders, but we've all relied on them as such during the crisis. They should be compensated fairly for the risks they are taking at work, keeping our communities stable and healthy," says Carlos Moreno, Deputy Director at Connecticut Working Families. "While some businesses have increased pay modestly, the survey shows that the vast majority of essential retail businesses did not."
The report outlines a series of recommendations to help safeguard frontline retail workers and provide them with the stability they need during this crisis. They mirror the recommendations proposed by the Fair Workweek Coalition in their recent letter to Governor Lamont.
"Frontline worker" designation for retail employees (food, dry and household goods)
Hazard pay (1.5x an employee's hourly pay)
Right to rest period
Predictability pay for cancelled shifts
Right to decline shifts without fear of retaliation
Right to request a flexible working arrangement
Survey details: Working Families conducted a non-scientific online survey of retail workers between March 24 and April 4, with a non-random sample of 164 respondents. The report is available for download here: