Announcing COWFP's 2020 General Election Endorsements!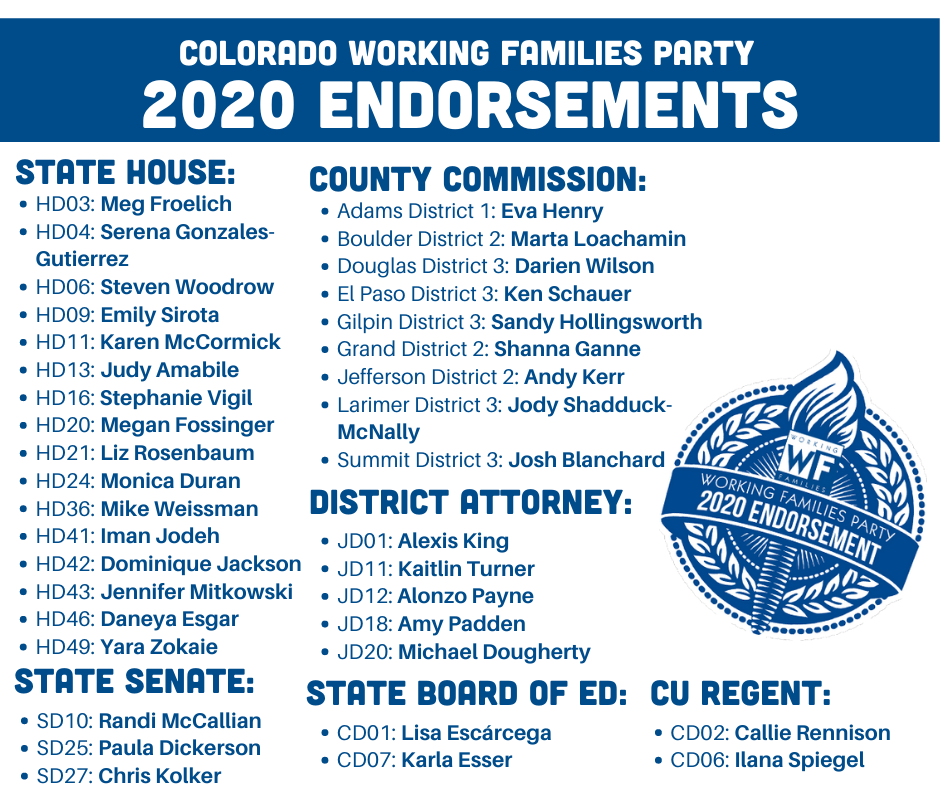 This year, paid family and medical leave, criminal justice, and sending more progressives to the state legislature are our top electoral priorities. Together, we have been at the forefront of the fight to ensure paid family and medical leave is available for every Coloradoan. Between now and November, we will organize voters around voting Yes on the paid family & medical leave ballot measure (Initiative #283). 
"Paid family and medical leave has been a key fight for progressives in Colorado and we're excited to let the people have their say in November," said Colorado Working Families Acting State Director Wendy Howell. "We're also focused on putting more progressive prosecutors in district attorney seats, flipping the majority on the Board of Regents, and sending more progressives to our state legislature. A real progressive Colorado is a Colorado where everyone can take time off when caring for themselves or their family, is treated fairly during our interactions with the criminal justice system, sees a higher education system that values them, and includes a legislature that puts the needs of the people ahead of the greed of corporations."
Colorado WFP District Attorney candidates won all three of the competitive primaries they were in this past June. In the General Election, we'll be continuing to be supporting bold criminal justice reform through District Attorney candidates Alexis King (JD1), Kaitlin Turner (JD11), Alonzo Payne (JD12), Amy Padden (JD18), and Michael Dougherty (JD20),
"WFP's support helped to push my campaign over the finish line by a large margin when we expected a tighter race in the primary," said JD18 District Attorney candidate Amy Padden. "I'm grateful to know that together we can win an even tougher general election and focus on bringing true criminal justice reform to JD 18."
Along with other progressive state legislative candidates, we are also proud to be endorsing Chris Kolker, who is running in Senate District 27 in one of Colorado's state legislative races to watch.
In this crucial election year, it's going to take each and every one of us pitching in to ensure victory for working families up and down the ballot. Can we count on you to volunteer with us between now and election day? Sign up here, today, or text CO Volunteer to 30403.
Take a look at our full endorsements list here, and Working Families endorsements across the country here.