Memo: Our Plan to Win in November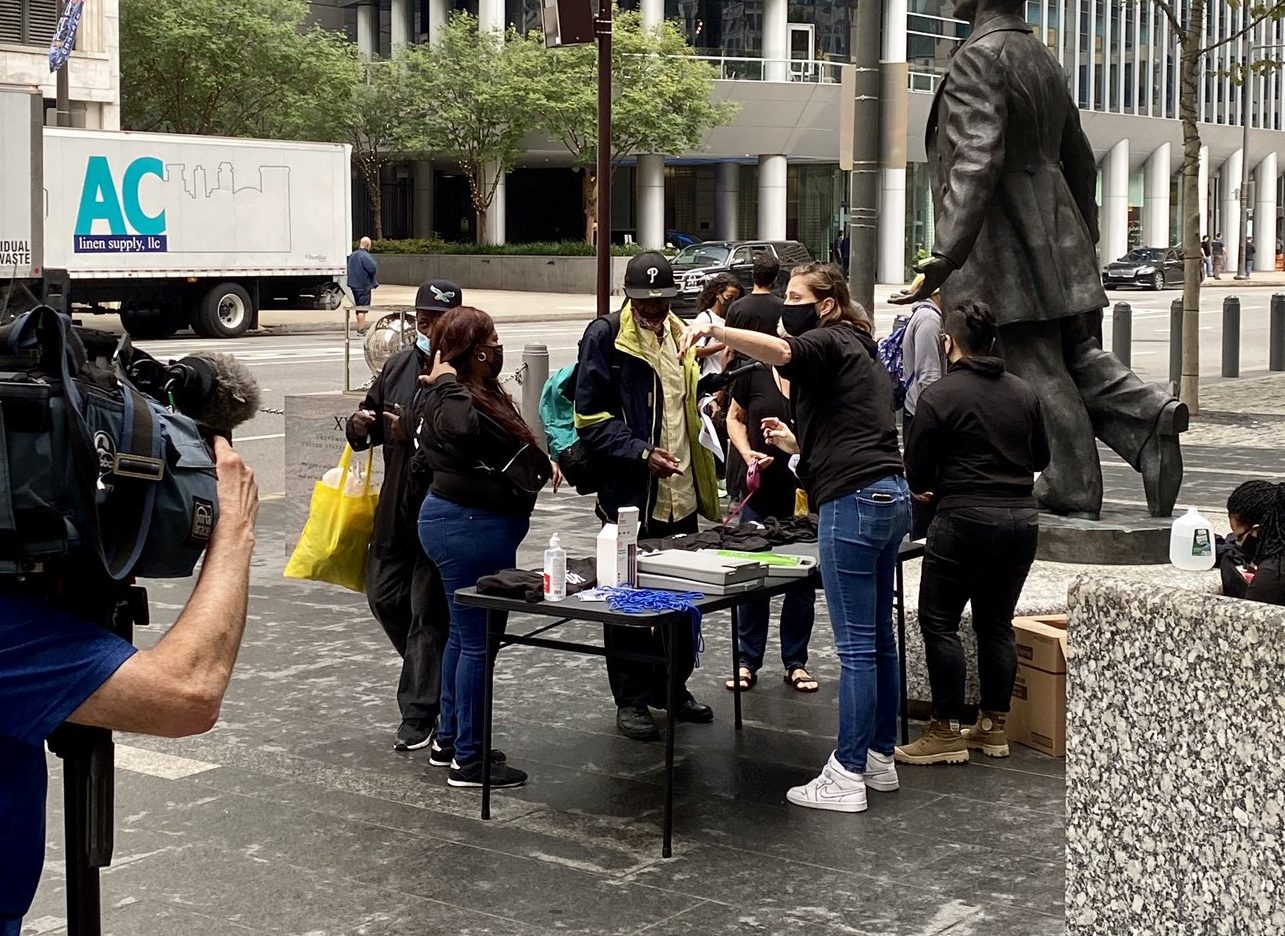 When we started crafting our election strategy earlier this year, the Working Families Party had big plans for in-person organizing in crucial battleground states and districts nationwide.
Then the COVID-19 pandemic hit, forcing us to rewrite our entire playbook for grassroots organizing and voter mobilization.
We responded by putting together a targeted general election plan with tactics built for this age of social distancing.
Our goals: To remove Trump from office, elect progressive champions everywhere, and build the grassroots power we need to win transformative change in 2021.
In a minute, we will dive into the details of that plan. But first:
Can we count on you to rush a contribution to our GOTV general election fund today to help power our movement forward?
MEMO
To: Interested Parties
Subject: WFP and the 2020 General Election
The COVID-19 pandemic has thrown us into the middle of a unique global and national crisis. Our habits and institutions are adjusting — and so must our strategies around getting out the vote in this year's general election.
In 2016, more than 40 percent of voters nationwide cast their ballots earlier than Election Day or via mail. This year, we may see this number climb dramatically, up to two-thirds of all voters or more.
Early on in the pandemic, as soon as it became clear that elections would change drastically this year, we got to work to ensure that voters would have the ability to vote safely. Working with our newly elected WFP Milwaukee City Councilor in Wisconsin, we won a law guaranteeing that every voter would be mailed an absentee ballot application — and soon other cities followed suit.
We've been testing and refining our voter engagement tactics. Now, we are getting ready to deploy all the skill and capacity we have to ensure that we turn out every voter we need to win over the next 47 days.
Elections this fall will look different, but they also offer abundant opportunities to build a long-lasting organizing infrastructure while we make sure that there is a massive voter turnout for our candidates.
Our tactical approach for this cycle relies on activating WFP members and supporters by providing people with resources, skills, and community to make a difference in their networks and neighborhoods.
We're training volunteers in phone banking, text banking, social media, relational organizing, and postcard writing to get out the vote while staying safe.
Our voter contact work will utilize multiple methods to help voters understand the process of voting by mail and correct any misperceptions among skeptical populations — a combination of contact touches formulated on what we know from experience winning campaigns.
Our focus will be on "low propensity voters" (meaning people who might or might not turn out to vote), newly registered voters, and voters who turned out no more than twice between 2008 and 2016 and may feel uncomfortable enough with voting by mail that they are unmotivated to ensure their vote is cast this year without being reminded to do it.
There are two key reasons why we are investing in a program centered on volunteer development and training:
In our early outreach, we discovered a massive deficit of trust for absentee voting measures, especially prevalent among younger voters and in communities of color. Voters are often mistrustful and afraid that their votes won't be counted, even as they are scared to show up to a polling location and possibly expose themselves to COVID-19. The best way to build trust is through personal relationships, networks, and neighbors. Community is more important than ever.
We believe that the most immutable form of political power is base capacity — a large mass of people organized under a long-term agenda. That's why the Working Families Party is building infrastructure to channel into the fights for racial and economic justice on Wednesday, November 4th and beyond, instead of infrastructure that disintegrates when even victorious campaigns have ended.
Our two biggest operations in 2020 purple states are in Milwaukee and Philadelphia, and below we'll give a snapshot on what those programs look like. At the same time, we're building up our efforts in other critical swing states like Arizona and Michigan, and also expanding our national distributed volunteer teams that can do targeted outreach to young, and Black and brown voters in smaller cities like Harrisburg or Racine — where we have a less well developed base but additional voter contact capacity will be fruitful.
Here is a closer look at two of the most robust state-based programs WFP is running for the general election:
Pennsylvania
First, some background:
WFP's largest investment anywhere in the country in 2019 was supporting our two candidates for Philadelphia City Council: Kendra Brooks and Nicolas O'Rourke. Kendra Brooks received 60,256 votes — amidst a marked increase in voter turnout over past local elections. At the same time, 250 volunteers got involved in our campaign, speaking and organizing within their neighborhoods and communities. In Philadelphia, the number of total votes cast increased by more than 15% from 2015 to 2019 — a more than 38,000 vote increase. Much of WFP's support came in from areas with traditionally lower voter turnout, including Nicetown and communities in Southwest Philadelphia.
One of the reasons Pennsylvania swung towards Trump in 2016 was reduced voter turnout in the Black community after the 2008 and 2012 general elections. Donald Trump only won Pennsylvania by roughly 44,000 votes.
Our plan:
For meaningful impact at the legislative level and in the presidential race in 2020, WFP has set a goal of organizing 1,000 activists in PA to make 1 million voter contact attempts and turn out 100,000 lower-propensity voters — or more than double the margin by which Trump won the state in 2016.
Starting this summer, our organizers and volunteers have been making calls and sending texts to enlist voters to sign up to receive a no-excuse absentee ballot. Our texting program and phone bank program are running, with dozens of new volunteers joining every week. And soon, we'll be launching our relational voter contact tool, where people can easily contact their own friends and family about voting. While we will continue to monitor whether a canvassing program might be safe, we will not put our organizers or volunteers at risk in the middle of a pandemic.
The combination of paid organizers and volunteer organizers will focus their efforts on mobilizing more voters to speak with their immediate neighbors about the concerns of working families and Black people at large — staying safe, improving democracy, and Voting at Home. And walking through how to vote from home with each contact will help improve confidence and secure robust voter turnout well before Election Day arrives, while also deepening their commitments to the Working Families Party mission for the long haul to support post-election legislative fights.
Wisconsin
Our plan:
In 2016, Wisconsin proved the tipping point state in the Electoral College for Trump. He won the state by just 22,748 votes. In 2020, WFP in Wisconsin has set a goal of organizing at least 500 activist volunteers to mobilize 40,000 low-propensity progressive voters.
We are recruiting and training 100 super volunteers who will commit to sending 10,000 texts each month between now and the election, and participate in a friends and family Relational Organizing curriculum. We will invest in their growth and development as community leaders through regular hands-on training with organizing staff and daily support and communication.
Our organizing staff has grown to more than a dozen organizers in Wisconsin from the end of the summer through Election Day. Their focus will be volunteer leadership development, relational organizing training, and deepening relationships to get out the vote and keep base infrastructure in place and ready to go post-election.
In Milwaukee, Racine, and communities of color in Madison, WFP will provide voters reliable information about voting by mail and invest in training members in relational and community organizing techniques, and empowering people to ensure their family members, friends, and communities show up to vote.
By October 1st, our goal is to enlist at least 23,000 commitments in Wisconsin to Vote at Home from low-propensity voters. We will then continue to do outreach to drive up more commitments to vote and follow up contacts to the early commitments.
We plan to produce a digital advertising program to reinforce the field message, demonstrating how Vote at Home works and legitimizing it as a method of participating in the electoral process. It will be overlaid in targeting jurisdictions. Our goal is to hit 40,000 voters a minimum of 5 times with online impressions.
In the suburbs, we're supporting progressive candidates for state legislatures, which will help create new votes up-ticket. And in rural counties, we're experimenting with allies to develop new approaches to training activists with the skills and tools to fully engage swing voters in their communities by going head-on to dissect Trump's racialized appeals that divide working people.
We are working to fully resource our potential in both Pennsylvania and Wisconsin and aim to run voter contact programs that could scale to the size required in Arizona, Michigan, Florida, North Carolina — and perhaps beyond.
Furthermore, WFP will deploy our national network to build national volunteer teams in deep blue states where WFP is strong and local volunteers want to make a difference in critical geographies where voter turnout is crucial.
Winning this election, removing Trump from office, and electing progressives nationwide is a first step towards the transformational change we need in order to create the type of country and world we all want to live in.
Fundamental changes that many once said were impossible are now in our sights and more mainstream than ever.
In addition to defeating Trump, we also want to make November's election a referendum on transformational change, Black lives, and the priorities of working people, so that in the days and weeks and months after Election Day, our progressive agenda will lead and our multiracial progressive movement will grow even stronger, no matter who is in the White House.
If you are in a position to do so, please make a contribution to our general election GOTV fund today: