The People's Charter: A roadmap out of our current state of crisis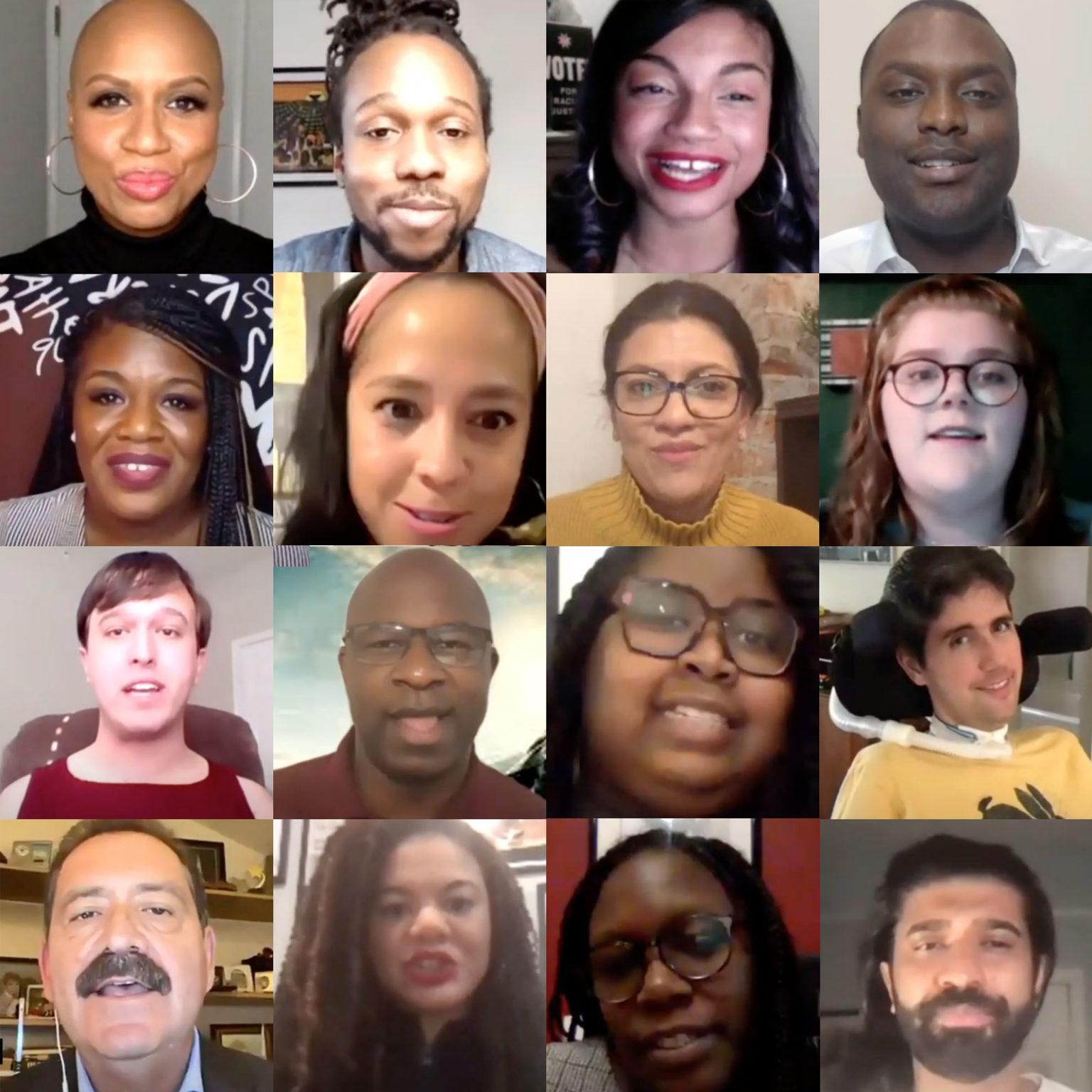 Watch our official launch of the WFP People's Charter, featuring Rep. Ayanna Pressley, Rep. Ro Khanna, Rep. Jesús "Chuy" García, Rep. Rashida Tlaib, Congressional candidates Jamaal Bowman, Cori Bush, and Mondaire Jones, and other special guests, then read more below and sign the charter here:
For months, people have come together in our communities to care for each other like never before, through a pandemic, the devastating economic hardship that it has wrought, and the uprisings against police violence and systemic racism. But those in charge haven't been caring for us. They don't even seem to care ABOUT us.
Just this week, Donald Trump tweeted that he would not sign any additional COVID-19 relief, even as infections are spiking in every corner of the country and families are falling behind on rent or mortgage payments.
Instead, he cut short his hospital stay to expose others to his own COVID-19 infection — and told Republicans to "focus full time" on his illegitimate nominee to the Supreme Court.
It's not just Trump. Too many of our elected officials seem to care for billionaires and holding on to political power a lot more than they care for working people. But it doesn't have to be this way. We can heal the wounds from this pandemic, the economic depression, and a history of racism. And working people can come together to make a nation that cares for all of us.
The People's Charter is the Working Families Party's new, ambitious roadmap out of our current state of crisis, and to an America that works for the many, not the privileged few. Add your name to let us know you want to build this future — and that you're ready to take action to make it happen.
The People's Charter represents an aspirational but concrete agenda around which progressives can rally: for COVID relief, jobs and healthcare for all, police reform, and bold action on climate. The five sections are as follows:
Care for the Wronged: Repair historic harms and end systemic racism.
Emergency care: Help everyone get and stay well, and support workers, families, and small businesses as long as it takes.
A Good Job for Everyone Who Needs One: Working people can't wait years for jobs to come back, we need millions of jobs now.
Care for Each Other: Address the deficiencies in how our government cares for us that the pandemic has revealed.
Care for the Future: Act now to make us all more resilient to challenges we know we have to confront.
Why are we kicking this off now, with just 26 days until Election Day? Because beating Donald Trump is a doorway, not a destination. If we take back the White House we can go on offense and demand Democrats take bold action starting in January 2021. In order to be successful, we must start building a movement now.
The United States of America is the richest country in the history of the world. We can get ourselves out of the messes we're in. Imagine if the grocery store clerks, the farmworkers, the nurses, the teachers, the bus drivers, and all of the working people in this country were in charge of it. Imagine how different things would be.
We can get there — and voting in this election is only the first step. Signing the People's Charter means you want to build this future — and you're ready to take action to make it happen come next year.