CT Working Families Party Candidates Win in 72 State Elections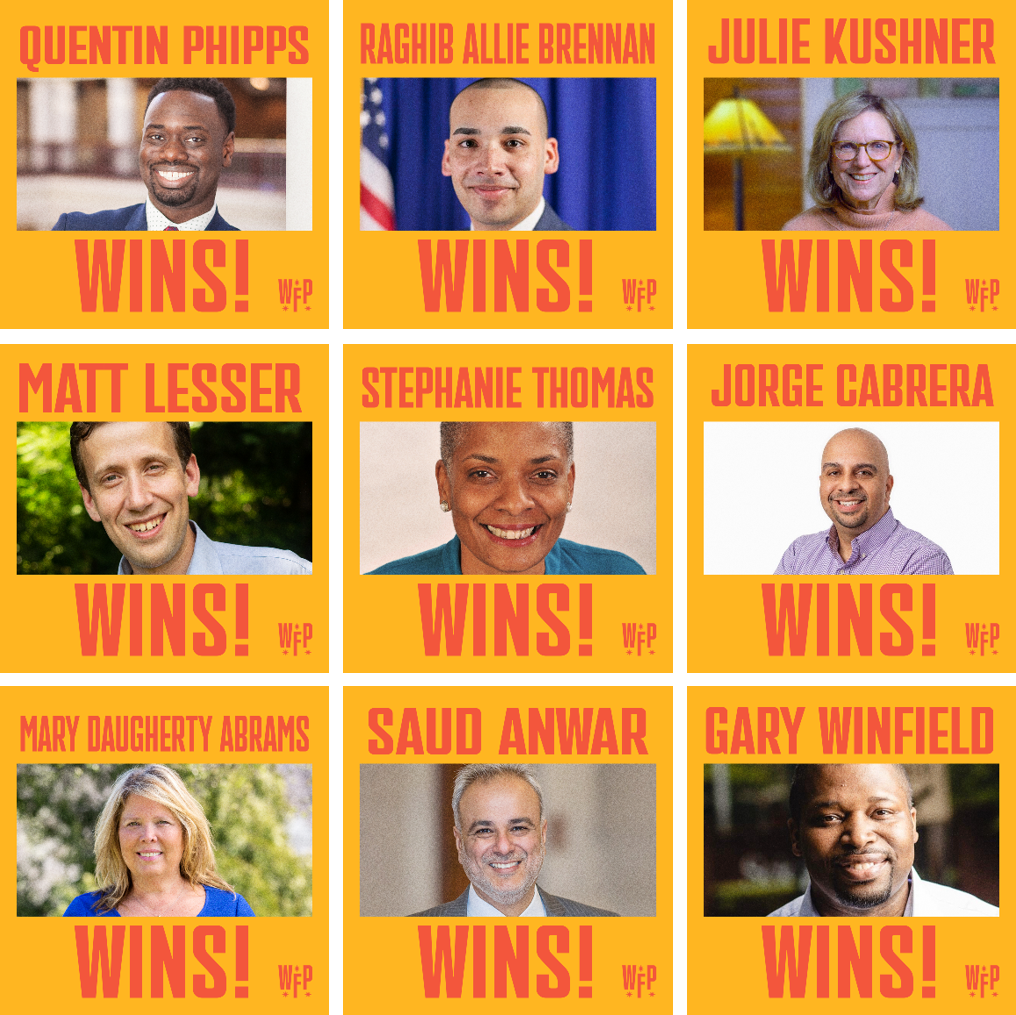 HARTFORD – Working Families Party candidates won major victories across Connecticut on Tuesday as progressives expanded their majorities in both chambers of the General Assembly. The results, including victories in districts previously held by Republicans, show widespread support for candidates that ran on racial justice, healthcare, expanding voting access, and raising standards of living for working class people.
Overall, WFP endorsed candidates won 72 out of 99 races. In the Senate, candidates won 14 out of 21 races. In the House, candidates won 54 out of 74 races. Our complete list of endorsements is available here.
"These victories by WFP-endorsed candidates show a strong appetite among voters for basic ideas that foster justice as well as candidates who value equality. These votes repudiate the crisis that corporate interests and the legislators they control have manufactured over the years here in Connecticut. Let's finally put that behind us," says Carlos Moreno, WFP State Director. "It's time for game-changing legislation that makes a difference in the real-world problems that people are going through every day in Connecticut. We need to be clear eyed about this opportunity as well as take confidence in the fact that it was voters who changed the game here and want results from those they elected to office, like policing reform, economic relief for Black, brown, and white working- and middle-class families, a green new deal that creates good paying jobs with training for workers, investment in our public schools, and certainly universal healthcare. If not now, then when?"
WFP Victories Around the State
We are proud of newly elected progressives that flipped Republican seats, such as strong pro-worker champions Jorge Cabrera (SD17) and Rick Lopes (SD6). "They both won in diverse, working class districts, running on expanding healthcare through a public option or fighting for a just economic recovery – a vision that voters agreed with," said Moreno. Additionally, Senators Julie Kushner (SD24), Mary Daugherty Abrams (SD13) and Matt Lesser (SD9) defeated Republican challengers, running on progressive platforms that centered healthcare access for all, civil rights, and economic relief for working and middle class families.
In the House, WFP-backed progressive candidates won competitive Republican-held seats. John-Michael Parker (HD101) and Jaime Foster (HD57) defeated incumbents with a strong progressive, families-first message. Along with pro-worker champions Brandon Chafee (HD33), Kate Farrar (HD20) and Amy Morin Bello (HD28), these candidates are growing the people's majority in the House.
In federal elections, WFP endorsed John Larson (CD1), Joe Courtney (CD2), Rosa DeLauro (CD3) and Jahana Hayes (CD5) who all won their races.
Failed Republican Attacks on WFP Endorsement
"Republicans this cycle tried to weaponize the WFP endorsement against candidates who voted for police reform and accountability. It didn't work, and as always the WFP endorsement proved to be a benefit to our candidates. An epidemic of violence against Blacks and People of Color in this country has reached its breaking point. Furthermore, it's clear that a majority of voters agreed that it needs to stop, and were not baited with dog-whistles into fearing good candidates. We are particularly proud of all the candidates who stood their ground on this issue and did the work to center the lived experiences of Black and Brown folks in conversations with their voters."