Connecticut Working Families Releases 2021 Legislative Agenda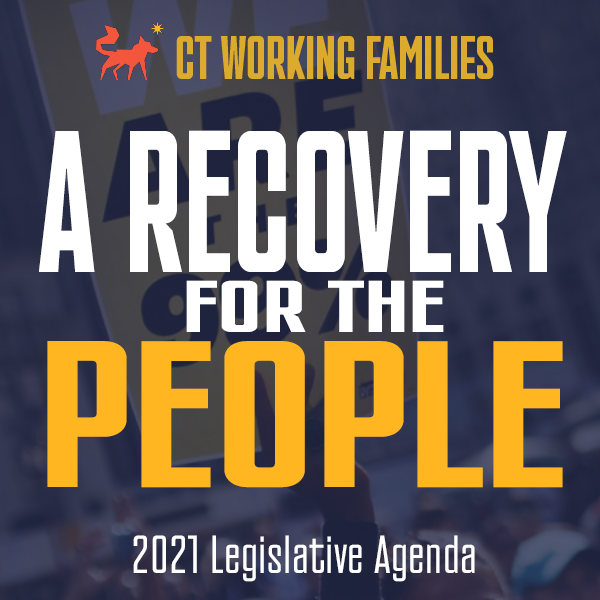 Hartford, Conn. – Connecticut Working Families released today its legislative agenda for the 2021 legislative session.
Carlos Moreno, State Director, CT Working Families:
"Four events have converged together to rock our country in 2020: a global pandemic, an economic collapse, an ongoing climate crisis, and a reckoning with the history of systemic racism. The recovery has been uneven to put it mildly. Voters need relief and want results from those they elected. It's time for game-changing legislation that makes a difference in the real-world problems that people are going through every day in Connecticut. If not now, when?"
To address these issues, Working Families propose a set of emergency and long-term measures to provide much needed relief to people most affected by the crises. In the agenda, Working Families calls for a fair budget that puts workers ahead of the wealthy, prioritizes care and health equity, reduces income inequality, and expands voting access and strengthens democracy. 
Connecticut Working Families – 2021 Legislative Agenda
Recovery for the People: Healing Wounds from the Pandemic, Economic Depression, Climate Crisis, and a History of Racism
Emergency Care, Now – Hundreds of thousands of workers in CT have lost jobs and healthcare in 2020, and people of color have borne the brunt of our economic and public health crisis. Connecticut must:
Pass a public healthcare option that expands Medicaid and provides accessible health insurance coverage to all residents regardless of citizenship status; makes coverage more affordable with lower premiums and drug prescription costs; and gives a feasible and manageable option for small businesses to provide coverage to their employees.
Provide hazard pay to thousands of essential workers, many without health insurance, exposed to health risks on the job.
Pass worker recall legislation for all laid off employees so they can get back to work.
Provide economic stimulus for thousands of undocumented immigrants who have not received federal relief during Connecticut's recovery.
Expand Connecticut's paid sick days law to ensure the safety and well-being of all residents through this crisis and future health crises.
A People's Economic Recovery – Connecticut's uneven recovery has favored the super wealthy as workers struggle to stay afloat. We remain top ranked in income inequality as workers of color, overrepresented in low wage jobs, are shouldering a disproportionate share of taxes than CEOs and investors. Working Families will hold large corporations and hedge funds accountable – all of which have profited from the pandemic. We must:
Pass a fair state budget that invests in working and low-income families, reduces their tax requirements, and puts them on a just and fair path towards economic recovery.

Close the carried interest tax loophole and corporate tax loopholes that enable tax avoidance.
Raise the income tax rate the wealthiest among us.
Pass an income tax surcharge on capital gains, dividends and investment earnings.
Ease the state spending cap as well as other savings-related rules.
Increase the corporation tax rate on companies with annual earnings beyond $100 million.
Reduce reliance on regressive property taxes.

Mandate that healthcare become available to everyone in Connecticut through a state single payer plan.
Protect Democracy – Around the country, democracy is under attack. As we continue to grapple with the impacts of COVID-19, it is more important than ever that voters have fair and safe access to registering and voting. We must:
Pass vote by mail legislation to ensure everyone can vote regardless of their ability to make it to the polls.
Defend and preserve the Citizens' Election Program.
Fight back against all efforts to suppress voting.
CT Working Families supports the following efforts to reduce disparities and protect workers' rights:
Pass legislation to limit some of the most disproportionate immigration consequences for Connecticut's immigrants and their families by reducing the maximum sentence for class A misdemeanors by a single day—from 365 days to 364 days.
Defend the fundamental right to organize and collectively bargain and oppose all so-called "Right to Work" legislation.
Reject proposals that reduce earned unemployment benefits.
Stop charging families for prison phone calls. Connecticut has the highest costs, ranking 50th in the country.
Legalize recreational marijuana with principles of restorative justice, labor peace agreements, and economic opportunity for minority business owners.
Protect Connecticut call center workers and jobs by ensuring that companies that offshore call center and customer service jobs are not rewarded with taxpayer dollars.
Increase investment in Long Term Care by increasing medicaid funding, passing legislative priorities from 1199's Long Term Care Worker Bill of Rights, and pass the PCA contract.
Renew CT legislation for Connecticut with a clear zero-emissions timeline and a focus on a just transition, jobs access, accessible housing, and environmental justice.
Comprehensive school reform to reduce funding disparities and economic and racial segregation.
Support proposals to protect tenants from evictions and homeowners from foreclosures as a result of the pandemic.