MEMO: How we won in Georgia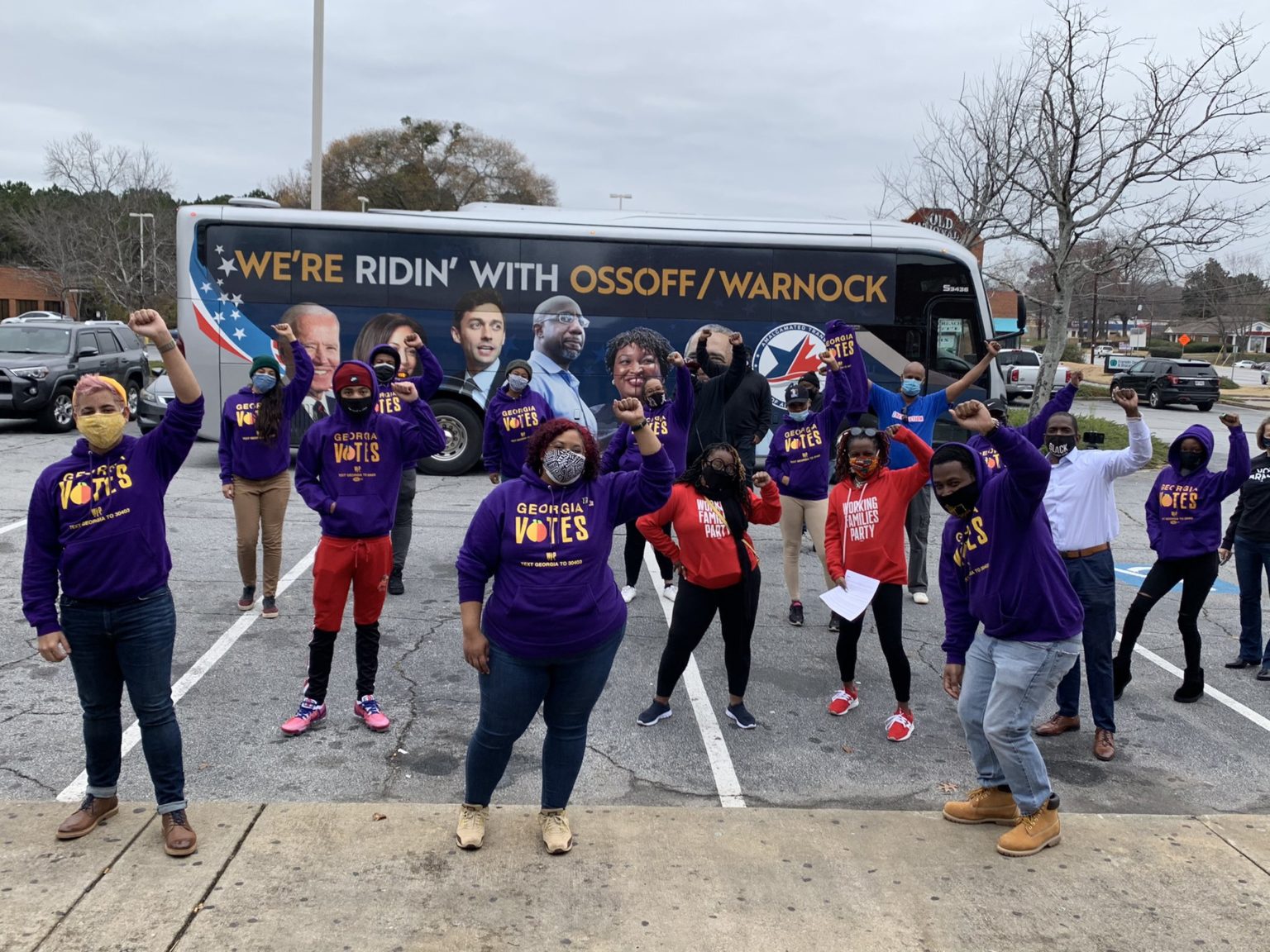 Friend, it's official: Raphael Warnock and Jon Ossoff are headed to the Senate and Mitch McConnell's majority is over!
This victory wasn't possible without everyone who volunteered to knock doors or phone bank, event attendees, ally organizations that welcomed our presence with open arms, donors who financially supported a progressive vision for the state, our endorsed candidates, and voters who wanted something different for the Peach State.
Make no mistake, the real work begins now — and we'll have a lot more to say about our plan to fight for a nation that cares for all of us in the coming weeks. But first, I wanted to dive more deeply into the hard work that led to this moment and kick things off with an important ask: Can you rush a contribution of $5 or more to help the Working Families Party keep up the fight in Georgia and across the country in the months ahead?
In solidarity,
Britney Whaley
Senior Political Strategist, WFP
---
MEMO
From: Britney Whaley, WFP
To: Interested Parties
Re: Georgia Senate Runoffs
We didn't know it at the time, but when the Working Families Party began organizing in Georgia in 2017 to elect Stacey Abrams as governor, it helped bring us to this moment. And what a moment it is.
Eight weeks after Georgia voters helped save the nation by denying Donald Trump a second term, we did it again by securing a Democratic Senate majority. The last few weeks have illustrated the stakes, as wealthy Republican Senators blocked critical aid to working families, all while Georgia's healthcare and hospital system buckled under the strain of a surging pandemic.
We organized like our lives depended on it because they do. Everything was on the line: from COVID relief to climate change, from criminal justice to the minimum wage and healthcare. With this victory, we've changed the trajectory of the next four years and proven that Georgia is a competitive state if we compete for it.
Since WFP activists started organizing in Georgia almost four years ago, we've worked to build progressive political infrastructure across the state. Pivoting off of our successful Democratic primary effort for Abrams, we've supported candidates up and down the ballot, including newly elected Athens-Clarke and Oconee Counties District Attorney Deborah Gonzalez, Congresswoman Nikema Williams, and State Rep. Regina Lewis Ward. We have also trained more than 100 candidates, campaign managers, and political staffers through three pipeline training programs. Our programs have focused on changing the face of leadership in the state by training Black women, women of color, and non-binary people. All of these efforts have built on each other, creating a powerful network of volunteers and activists who have been moving mountains on the ground for the last eight weeks.
We have given it our all. I'm so proud of what we accomplished, and so I wanted to share a snapshot of that work with you:
Senate Runoff
As soon as it became clear that the outcome of Rev. Raphael Warnock and Jon Ossoff's elections would determine the Senate Majority, we knew the WFP was well-positioned to make a major impact. We'd already built significant infrastructure through the 2020 general election, where Georgia WFP had made millions of texts and phone calls and built a dedicated group of 250 volunteers on behalf of progressive WFP-endorsed candidates. But we needed to double-down and scale up our efforts significantly — and that's exactly what we did.
Yesterday, we wrapped up a massive $2.5 million GOTV effort that changed the direction of our state and our nation.
Field: Crucially, we've resumed door-knocking operations in 2021, having COVID-safe, socially distant one-on-one conversations with voters about why they have to support the entire Democratic ticket. Hundreds of canvassers knocked on more than 200,000 doors and identified 40,913 voters in 11 counties across the state, from the Atlanta metropolitan area to rural counties like Dougherty, Lowndes, and Bulloch.
Phone-banking and texting: The enthusiasm for our text banks and phone banks has also been inspiring. Hundreds of volunteers completed 550,000 calls to speak with 32,100 voters that may not have otherwise shown up to the polls and sent 6.3 million texts to 1.9 million Georgia voters. In total volunteers have completed more than 13,000 texting or phone-banking shifts.
Relational organizing: We ran several successful relational organizing trainings, teaching our Georgia volunteers to use the REACH system to directly organize their own friends and family. In total, we've held 19 reach events, including some at Historically Black Colleges and Universities, where we have enlisted student volunteers as trusted representatives to their fellow students, families, and friends.
From the Senate to the State House, WFP bet on Georgia and went all in. We knew deep organizing and investment would be a game-changer for Georgia. With the help of partner organizations like Black Lives Matter PAC, Black PAC, If Not Now, Our Revolution, CIR SEIU, and Social Security Works — as well as elected leaders like U.S. Reps. Ayanna Pressley, Ilhan Omar, and Rashida Tlaib, WI Lt. Gov. Mandela Barnes, NY Assemblymember Diana Richardson, New York City Councilmember Brad Lander and South Fulton Councilman Khalid, and local and national influencers like Phil Agnew and Todd Grinnell — we expanded the electorate, brought new voters to the process and shattered expectations for the runoff race.
WFP has also continued to support the wildly successful Election Defenders program in Georgia. The Election Defenders is a nonpartisan initiative that in the runup to November 3rd trained thousands of people across the country to provide safe supports for voting (such as PPE and water), and election and voter defense, de-escalating white supremacist intimidation tactics and signaling to a network of groups and lawyers if and where trouble breaks out. Election Defenders worked 25 polling locations during the first week of Georgia's early vote for the special elections and will be manned polling places throughout the state yesterday. Meanwhile, the Election Defenders' Joy to the Polls initiative coordinated pop-up concerts around the state with hip-hop stars Rick Ross and Mulatto, multi-Grammy award-winning artist Ne-Yo, platinum-selling artist Moneybagg Yo and hitmaking rapper YFN Lucci, and many more.
I can't say this any clearer: Our national agenda runs through Georgia. On Nov. 4, 2020, we faced four years of pressuring a Biden Administration to do as much as it could for working people through the narrow corridors of executive action. Today, we can open up a new world of possibility where the Biden Administration and a Democratic Congress can move forward our progressive agenda on a Green New Deal, a $15 minimum wage, and the emergency aid people need to remain safe during this pandemic.
But we can't do this alone. It's going to take all of us demanding that Joe Biden and Congress prioritize a transformative agenda for the people that voters demanded in the general election and these runoff elections. And we cannot relent in our efforts to recruit more progressives to run in every corner of the country in 2021 and 2022. If you're ready to sustain the momentum we've built here in Georgia and across the country, rush a contribution to the Working Families Party today.