New Mexico Working Families Announces Endorsement in First Congressional District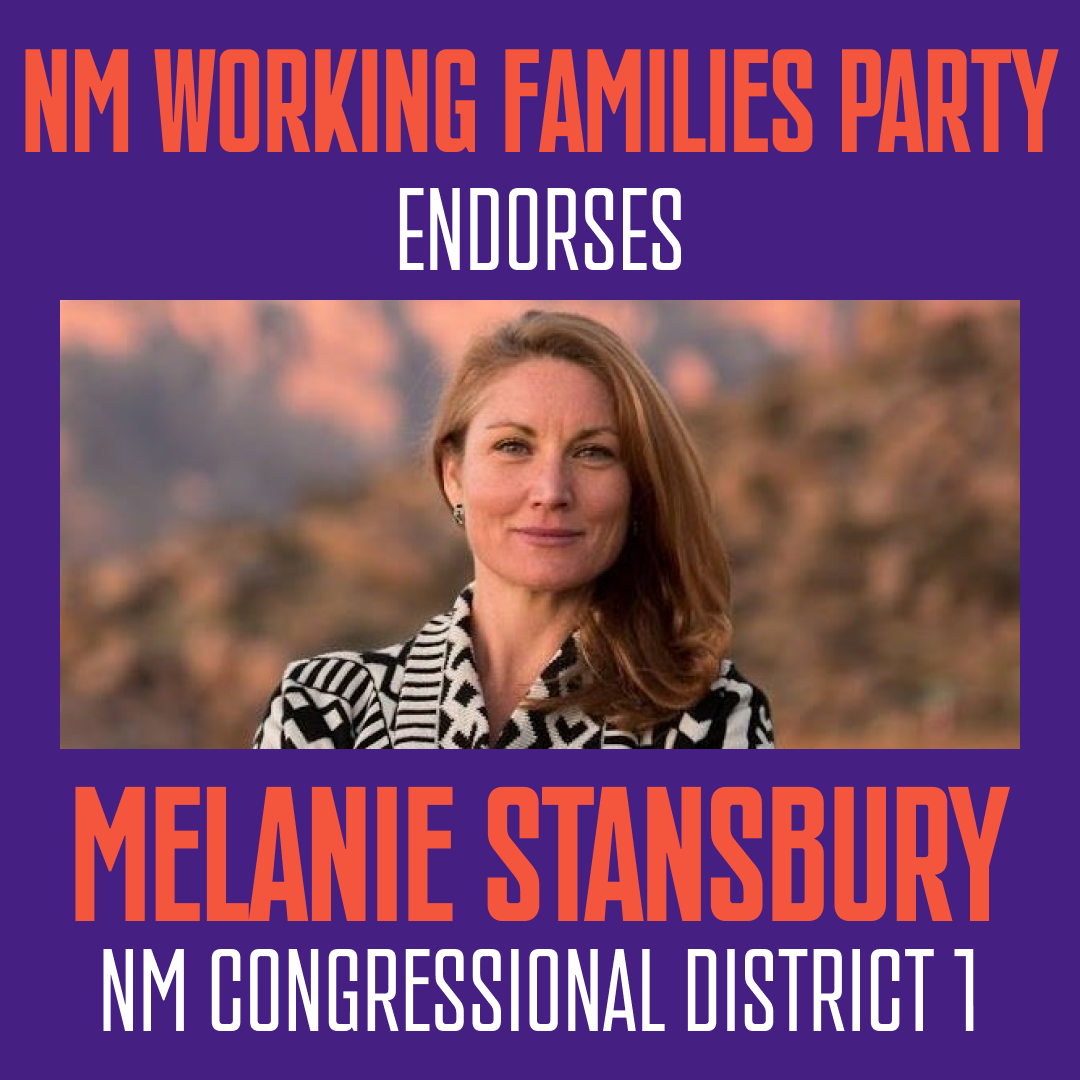 Membership and Affiliates Vote to Endorse Representative Melanie Stansbury
ALBUQUERQUE, New Mexico (March 9, 2021) — The New Mexico Working Families Party today announced it is endorsing State Representative Melanie Stansbury in the general election for the open seat in New Mexico's First Congressional District. Stansbury won the Democratic nomination to replace Deb Haaland, who joined President Biden's Cabinet as Secretary of the Interior.
"We are proud to stand with Representative Melanie Stansbury to take over the Congressional seat held by Interior Secretary Deb Haaland," said Oriana Sandoval, CEO of the Center for Civic Action and WFP affiliate. "Melanie has been an unwavering ally in our fight for social and economic justice for all New Mexicans, including a just transition to a diverse economy that centers communities affected most by climate change."
"Representative Stansbury has deep roots in this Congressional district and understands the struggles of working families first hand," said Andrea Serrano, Executive Director of OLÉ and member of the Working Families Party national executive committee. "We look forward to working with her to fight for a $15 minimum wage, Medicare for All and to pass the THRIVE Act to make sure all New Mexicans have access to the opportunity to prosper and raise their families with dignity."
"Melanie has been a great partner, and champion for Climate Justice, and equity. We are committed to advancing progressive policies, and working together to promote a strong working families agenda that balances new jobs, a clean environment, and a more prosperous economy for all working people" said Austin Weahkee, Political Director with New Mexico Native Vote.
"We thank all of the candidates for their hard work in the primary campaign for taking strong progressive stances on issues affecting working families," said JD Mathews, Acting State Director for NM Working Families. "We also thank the hundreds of local New Mexico members and affiliates who participated in our endorsement process."
""I am so honored to be endorsed by the Working Families Party, which has been on the front lines of racial equity, worker rights, social justice and democracy reform in New Mexico and around the country," said Representative Stansbury. "I will stand with WFP and other progressive allies in Congress to ensure we put working families and our communities first in every action we take."
The Working Families Party is a grassroots progressive political party that fights to make our country work for the many, not just the few. WFP recruits, trains, and elects the next generation of progressive leaders to office. In the space of a few years, the New Mexico Working Families Party has become a major challenger to the Democratic Party status quo. The WFP helped oust some of the most conservative Democrats in the New Mexico Senate in the 2020 Democratic primary. By supporting candidates who are engaging voters with a compelling working families agenda, challenging powerful Democrats, and holding elected officials at all levels accountable, WFP has given the progressive wing of the Democratic party a stronger and more effective voice.
###