Working Families Party endorses Roberto Alves for Mayor of Danbury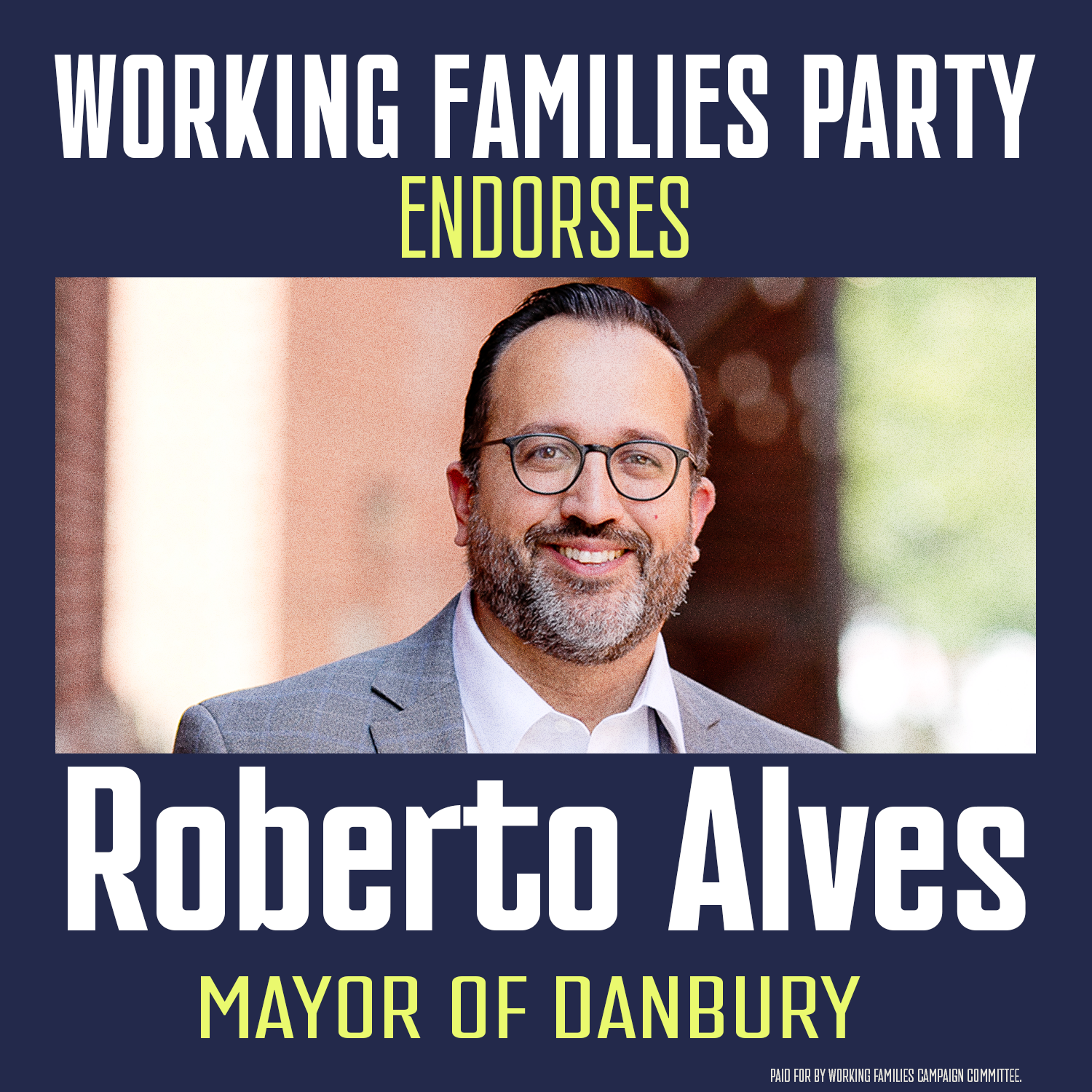 Hartford, Conn. – The Connecticut Working Families Party (WFP) announced today its endorsement of Councilman Roberto Alves for Mayor of Danbury ahead of the September 14 Democratic primary. With this endorsement, WFP seeks to bring progressive change to an office, long held by a Republican Mayor, making racial, economic, and social justice its main priority with renewed investments in education, housing, infrastructure, and public services.
"Roberto Alves is the right candidate to build a better Danbury and put forward an ambitious agenda to advance opportunity and equitable economic growth," says Carlos Moreno, State Director of Connecticut Working Families Party. "Roberto embodies the working-class, multirracial, vibrant spirit of the city. He understands the needs and aspirations of working families at a personal level – and will fight to build a Danbury for everyone, not just wealthy developers and the well-connected."
Decades of a Republican administration has led to forced austerity, understaffing public services, and harmful policies like Danbury's 287G program which targeted, detained, and deported immigrants. Alves brings forward a vision for Danbury that will foster open, equitable, and inclusive growth for all its residents. 
Alves, a Danbury resident since he was five, Alves is the son of Portuguese and Brazilian immigrants and a graduate of Danbury public schools. A committed activist and community leader, Roberto has fought for transparency in local government, advocated for Danbury schools to receive adequate funding, and worked hand-in-hand with local organizations and activists to address the needs of Danbury residents during the COVID-19 pandemic.
"I'm incredibly honored to receive the endorsement of the Working Families Party and I'm proud to be a Working Families Democrat. It's time Danbury had real, proactive leadership focused on addressing the economic, education, and infrastructure crises brought on by the leadership of the last two decades," said Councilman Roberto Alves. "We need to be proactive, and I know that the coalition we're building, and the momentum we gain every day will help us get Danbury on a more equitable and successful path to the future, and I'm proud to have the Working Families Party on our side."
The Working Families Party endorsement comes with candidate training and strategic campaign support. All candidates are carefully vetted to ensure that they reflect the views and values of Working Families' members. Recent polling affirmed Working Families' members vote for candidates who will fight hard for racial, environmental, and economic justice, tax fairness, healthcare reform, strong public education system and immigration reform.
WFP-endorsed candidates appear on the WFP line on the ballot in the general election.