Working Families Party endorses Bobby Sanchez for Mayor of New Britain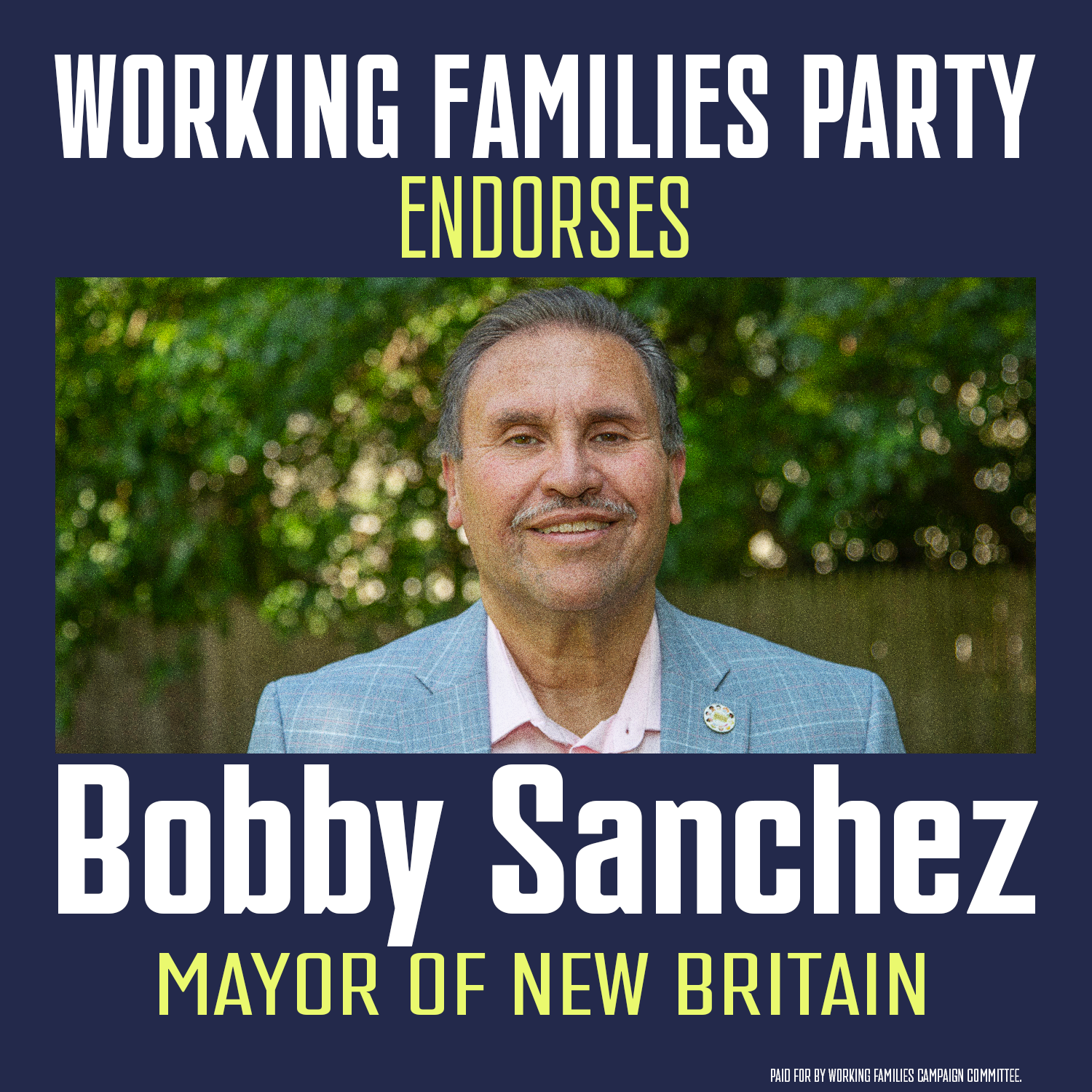 Santiago, Anderson, Reyes, Jiménez Sims and Labas endorsed for Common Council
Hartford, Conn. – The Connecticut Working Families Party (WFP) announced today its endorsement of State Representative Robert Sanchez for Mayor of New Britain ahead of the September 14 Democratic primary. In addition to Sanchez, WFP has also endorsed Francisco Santiago, Chris Anderson, Richard Reyes, Violet Jiménez Sims, and Amy Labas for the Common Council, looking to bring a new governing majority to City Hall.
With these endorsements, WFP seeks to bring a new progressive leadership to the city, committed to advance social, economic, and racial justice, bringing to an end years of Republican mismanagement.
"New Britain needs a new vision – a city Government that puts working families at the front and center. Bobby Sanchez has made it clear, as one of the leading progressive voices at the Capitol, that he is the right person to bring this vision forward," says Carlos Moreno, State Director of Connecticut Working Families Party. "We believe New Britain can aspire to be a city where everyone is welcome, no matter who they are or where they come from, and where everyone can thrive – a place for opportunity for the many, not the few. Bobby can bring this vision forward."
The current Republican administration has consistently underfunded education and public services for years, putting the needs of developers and landlords ahead of working families. Further, New Britain's vibrant Latino community needs leadership they can trust, given how the current mayor has allowed ICE to deport immigrants and fought against sanctuary city protections.
New Britain needs a new path forward, focused on inclusive growth, away from austerity policies that have only led to overcrowded schools and decaying infrastructure, but no meaningful economic growth.
Sanchez, a lifelong New Britain resident, was first elected to the Connecticut General Assembly in 2011, after serving in the New Britain Board of Education. A community leader, volunteer, teacher, and educator, he headed the Fatherhood Initiative, a guidance program for local fathers.
"I'm incredibly proud and humbled to receive the endorsement from the Connecticut Working Families Party," says Representative Sanchez. "While serving as a New Britain State Representative, I have been happy and inspired to fight alongside the Working Families Party in our shared mission to bring true social, racial, and economic justice for all communities, no matter your race, gender or ethnicity. Now more than ever New Britain needs a mayor that will uphold that commitment. For too long, the current administration has picked winners and losers depending on where you live in our city causing our schools to be underfunded, small businesses left behind and the tax burden falling on our working-class residents. As mayor, I will not find someone to blame for these challenges but do what I have always done in my ten years of serving as a State Representative for this great city, roll up my sleeves and get to work."
Working Families considered Alicia Strong and Representative Bobby Sanchez for the endorsement, and they were greatly impressed by both candidates.
"Alicia Strong represents the best of New Britain, a dedicated activist and staunch advocate for justice and progress for the city," says Moreno. "We have no doubt that she'll shake things up in Connecticut. Her star shines bright."
The Working Families Party endorsement comes with candidate training and strategic campaign support. All candidates are carefully vetted to ensure that they reflect the views and values of Working Families' members. Recent polling affirmed Working Families' members vote for candidates who will fight hard for racial, environmental, and economic justice, tax fairness, healthcare reform, strong public education system and immigration reform.
WFP-endorsed candidates appear on the WFP line on the ballot in the general election.