Connecticut WFP announces candidate endorsements for November municipal elections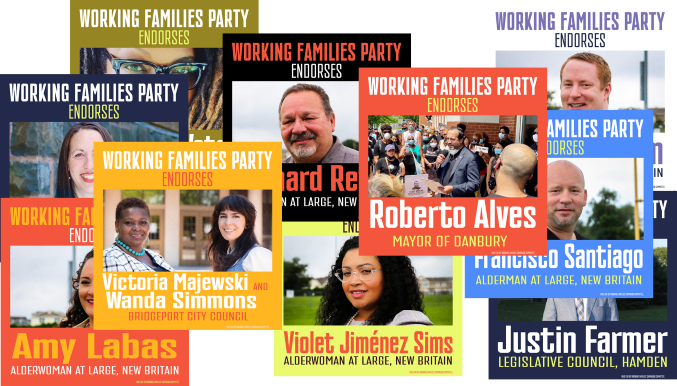 Hartford, Conn. – The Connecticut Working Families Party (WFP) announced today its endorsements for seventy-three candidates in the upcoming municipal elections. The list includes candidates in Danbury, Hamden, Hartford, New Britain, New Haven, New London, Norwalk, and Willimantic, with a commitment to support inclusive growth and shared opportunities in the communities.
All candidates will appear on the ballot on the Working Families Party line. Full list of candidates is available below. 
"Connecticut faces a choice between two models of local governance," says Sarah Ganong, Campaigns Director of the Connecticut Working Families Party. "We have incumbent Republican politicians, like those in New Britain or Danbury, who when faced with rising inequality, failing public schools, and rising housing costs decide to do nothing or pass the problem along. On the other hand, we have leaders, like WFP Councilor Rose Reyes in Windham, who are willing to tackle inequality head on, by investing in education, housing, and infrastructure. These are the leaders we need in Connecticut – and that WFP will work to elect this November."

"Local government plays a critical role in our state, not just through many services we rely on in our daily lives but by outlining opportunities for our communities in the first place. The candidates we are endorsing today have made the choice to act, to advance opportunity and social justice in their communities, and make working families the center of their agenda."

"It is time for our local leaders, our Mayors, our Board of Education members, our City Councilors, to step up to put an end to the structural barriers that have turn Connecticut into one of the most segregated and unequal states in the country – and ensure that all residents in Connecticut, no matter their wealth or where they come from, live in vibrant, inclusive, and welcoming communities."
The Working Families Party endorsement comes with candidate training and strategic campaign support. All candidates are carefully vetted to ensure that they reflect the views and values of Working Families' members. Recent polling affirmed Working Families' members vote for candidates who will fight hard for racial, environmental, and economic justice, tax fairness, healthcare reform, strong public education system and immigration reform.
WFP-endorsed candidates appear on the WFP line on the ballot in the general election.
List of WFP-endorsed candidates:
| | |
| --- | --- |
| Bridgeport | |
| Victoria Majewski | City Council District 139 |
| Dasha Spell | City Council District 132 |
| Joseph Sokolovic | Board of Education |
| Tyler Mack | City Council District 131 |
| Khalid Muhammad | Board of Education |
| Jose Lopez | Board of Education |
| Aikeem Boyd | City Council, District 133 |
| Wanda Simmons | City Council District 139 |
| Danbury | |
| Roberto Alves | Mayor |
| Ellen VanDyke Bell | City Council, at large |
| Dennis Perkins | City Council Ward 1 |
| Joseph DaSilva | Board of Education |
| Farley Santos | City Council 4th Ward |
| Richard Molinaro | City Council 7th Ward |
| Andrea Gartner | Town Clerk |
| Ryan Hawley | Zoning Commission |
| Wilson Hernandez | City Council Ward 7 |
| Paul Rotello | City Council Ward 6 |
| Zeus Zegarra | Zoning alternate |
| Frank Salvatore Jr | City Council, at large |
| Joseph Britton | City Council Ward 4 |
| Sidney Almeida | Zoning Commission |
| Robert Taborsak | City Council – At Large |
| Silvia Merlim | City Council, at large |
| Gary Simone | City Council, at large |
| Jolie "Yolanda" Ospina-Arias | Zoning Commission |
| Henry Hall | City Treasurer |
| Sonia Havasi | Zoning Commission |
| Bernard Gallo | City Council – 2nd Ward |
| Larry Morgan | Zoning Commission |
| Olga Mejia | Zoning Commission |
| Helena Abrantes | City Council, Ward 2 |
| Molly Anderson-Diker | City Council Ward 3 |
| Theodore Haddad | Zoning Commission |
| Luisa Britton | Board of Education, at large |
| Hamden | |
| Nijija-Ife Waters | Board of Education |
| Justin Farmer | Legislative Town Council District 5 |
| Laurie Sweet | Legislative Council, at large |
| Hartford | |
| Shonta Browdy | Board of Education |
| New Britain | |
| Francisco Santiago | Alderman at large |
| Bobby Sanchez | Mayor |
| Chris Anderson | Alderman at large |
| Richard Reyes | Alderman at large |
| Violet Jiménez Sims | Alderman at large |
| Amy Labas | Alderwoman at large |
| New Haven | |
| Justin Elicker | Mayor |
| Eli Sabin | Alder, District 7 |
| Michael Smart | City Town Clerk |
| New London | |
| James Burke | City Council |
| Reona Dyess | City Council |
| Danni Cruz | Board of Education |
| Jocelyn Rosario | City Council |
| Martha Marx | City Council |
| Elaine Maynard-Adams | Board of Education |
| Norwalk | |
| Harry Rilling | Mayor |
| Sheri Brown | Board of Education, at large |
| Joshua Goldstein | Common Council, at large |
| Greg Burnett, Sr | Common Council, at large |
| Tom Livingston | Common Council District E |
| Dominique Johnson | Common Council, at large |
| Margaret (Lisa) Shanahan | Common Council District E |
| David Heuvelman | Common Council District A |
| Barbara Smyth | Common Council, at large |
| Nora Niedzielski-Eichner | Common Council, at large |
| Janine Randolph | Board of Education, at large |
| Colin Hosten | Board of Education, at large |
| Diana Révolus | Common Council District B |
| Kara Baekey | Board of Education, at large |
| Darlene Young | Common Council District B |
| Heidi Alterman | Common Council District D |
| Tyler Fairbairn | Common Council District C |
| Diane Jellerette | Common Council District D |
| Jenn McMurrer | Common Council District C |
| Windham | |
| Rose Reyes | Town Council |