California Working Families Party 2022 Launch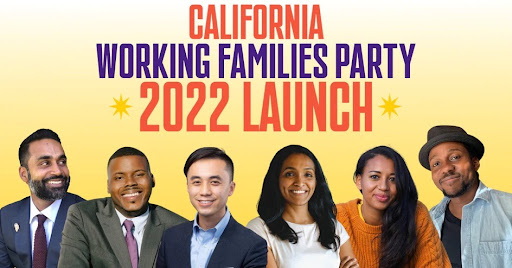 It's official!
Thanks to your support and participation, the Working Families Party is now in California and ready to train, recruit, and elect progressive champions who are proud to stand with and fight for us, not the elite.
At our recent statewide launch event, we were joined by many energetic members and supporters who came together in community to share their enthusiasm and excitement for the future of the party here in California. Led by our incredible host Christina Livingston, the Statewide Executive Director of Alliance of Californians for Community Empowerment (ACCE), our dynamic program featured a variety of WFP champions, including Maurice Mitchell, the National Director of the Working Families Party, Nithya Rama, Los Angeles City Council Member, Alex Lee, CA Assembly Member, Micheal Tubbs, Former Mayor of Stockton, and Sajid Khan, recently WFP Endorsed candidate for Santa Clara County District Attorney.
Among several great updates, we shared with you that we've established charters and steering committees in 7 regions — the Bay Area, Los Angeles, San Diego, Central Coast, Central Valley, Inland Empire, and Orange County. Each of these regions are where our endorsement decisions are made, and where regional leadership guides our strategy to engage voters in order to reclaim power for our communities.
From our school boards all the way to Congress, we discussed the strategic importance of building our base and our bench in local elections and beyond. We shared that going into 2022, we're committed to changing the face of politics in our state by identifying WFP candidates like Alex Lee and Jennifer Esteen who will fight for us in the State Legislature to ensure that hard-working Californians are granted the representation they deserve. We also highlighted our involvement in key criminal justices races by affirming our focus on replacing District Attorneys who adhere to antiquated tough-on-crime approaches with progressive candidates like Sajid Khan and Chesa Boudin who refuse to continue the mass incarceration of people of color. While our priority is centered on securing wins in the State Legislature and fighting for down ballot seats like City Council, County Supervisor and school board, we also recognized that our vision is guided by the need to expand our progressive majority at the federal level by identifying progressive candidates running for Congress. Where the opportunity exists, CA WFP will be there ready to uplift local organizing efforts seeking to flip red seats to blue.
With your continued support, we look forward to growing our presence in California and working alongside you and our partners in unions, community organizing groups and movement leaders to fight for a people-powered, pro-worker agenda.

Stay up to date on all things CA WFP by checking out our Linktree here.