Connecticut Working Families Endorses Juliemar Ortiz for State Senate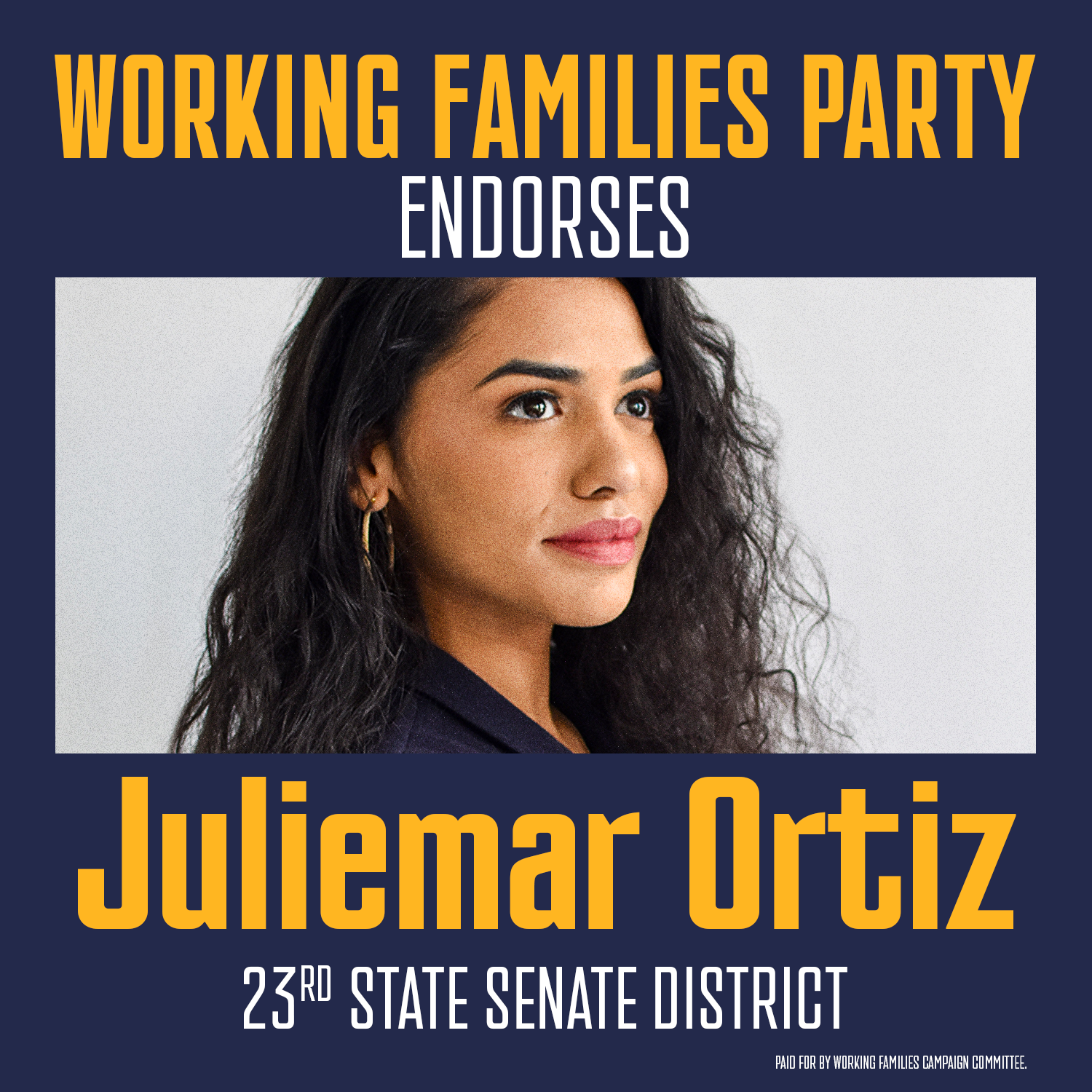 Ortiz will be the featured speaker on June 5th WFP event in Bridgeport
Bridgeport, Conn. – The Connecticut Working Families Party (WFP) announced this weekend its endorsement of Juliemar Ortiz for the 23rd State Senate District. Ortiz will challenge incumbent Senator Dennis Bradley, who is facing federal charges, and the Rev. Herron Gaston, the Democratic Town Committee-endorsed candidate, in a primary in early August.
Following her endorsement, Ortiz will be the featured guest speaker this Sunday, June 5th, at a WFP event at Seaside Park in Bridgeport. WFP members, activists, and volunteers will gather starting at noon to hear from WFP staff and candidates, and plan for the work ahead to elect progressive leaders like Ortiz.
"Voters in Bridgeport and Stratford deserve to be represented in the Senate by a leader who is dedicated to work for the people in their district with integrity and honesty," says Sarah Ganong, Connecticut State Director of the Working Families Party. "Juliemar´s focus on political, economic, and social justice stands in contrast with an incumbent that splits its time between helping cronies and dodging federal indictments, and the establishment that enabled him. She is not afraid to speak truth to power and will fight for her district and constituents, not for the party machine."
A former journalist, Juliemar Ortiz was born in Puerto Rico and grew up in Bridgeport. If elected, she would be the first Latina to take a seat in the Connecticut State Senate.
"I am running for office because our communities need a voice that will fight for them in Hartford," says Ortiz. "I am proud and honored to be part of the legacy of WFP candidates like Senator Edwin Gomes, and I am committed to continue to follow his work – and ensure that justice, equity, and progress are at the center of the agenda in the Senate."
"Bridgeport needs to move past the politics of patronage and corruption and elect a generation of leaders that will serve their constituents, not themselves," said Sauda Baraka, Chair of the Bridgeport Working Families Party Town Committee. "Juliemar has been a champion for transparency and accountability, and she is ready to fight for working families in our communities."