Connecticut Working Families Party announces candidate endorsements for Treasurer, Comptroller, and Secretary of the State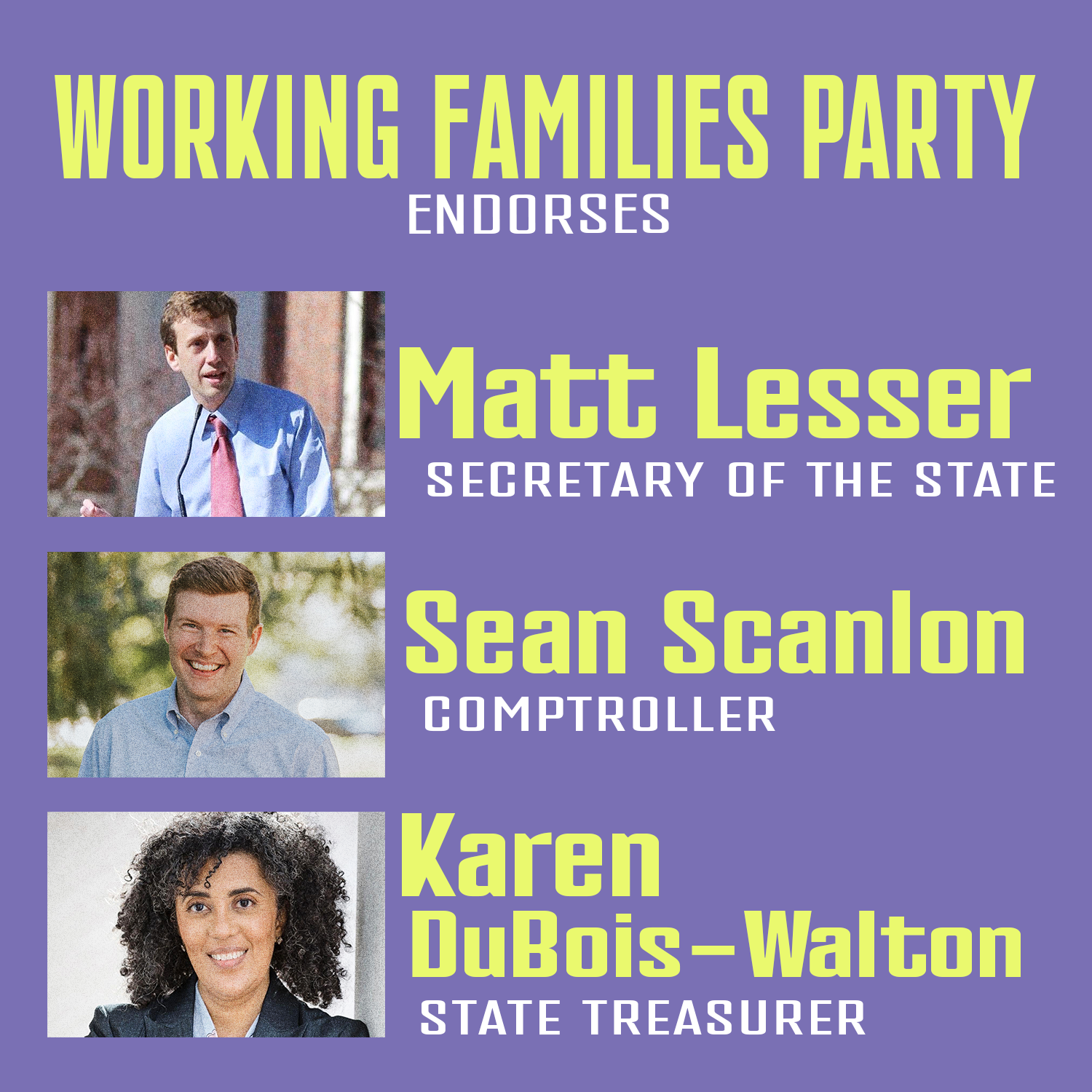 Party endorses Matt Lesser for Secretary of the State, Karen DuBois-Walton for Treasurer, Sean Scanlon for Comptroller
Hartford, Conn. – The Connecticut Working Families Party (WFP) announced today it is endorsing Senator Matt Lesser for Secretary of the State, Representative Sean Scanlon for State Comptroller, and Karen DuBois-Walton for State Treasurer in the Democratic primary election. These endorsements recognize the commitment by all three candidates to center working families in their campaigns and policy platforms. Conn
Sarah Ganong, Connecticut State Director, Working Families Party:
"Connecticut needs leaders who want to build a state that works for all of us, not a privileged few, and are willing to lead to accomplish this goal," says Sarah Ganong, Connecticut State Director of the Working Families Party. "Matt Lesser, Sean Scanlon, and Karen DuBois-Walton are all committed to fighting for social justice in our state. They are proven leaders on issues that impact working families and can win all the way through the election in November.

In a season of national turmoil, we need leaders who will meet this moment. Connecticut must lead in how we manage and run elections, to ensure that all voices are heard at the ballot box. We must lead in how we run our public sector finances and our healthcare system, ensuring that the state government works for all of us and not just the wealthy and well-connected.

Matt, Sean, and Karen are the leaders we need to move Connecticut forward. The Working Families Party is proud to endorse in the Democratic primary, and we look forward to working together to expand democracy and opportunity in our state."
Candidate Statements:
"I am proud to receive the Connecticut Working Families endorsement," says Karen DuBois-Walton, candidate for State Treasurer. "For my whole career, I have worked to make Connecticut a place where every one, no matter where they live or where they come from, has the opportunity to thrive. I am committed to fight for these shared values. As State Treasurer, I will protect the precious investments of our state employees and teachers, expand access to opportunity for the hard-working families of our State, and ensure that we make the investments we need to make this a reality."

"The Connecticut Working Families Party have been critical allies in health care reform and advancing economic opportunity in our state and I'm proud to have their endorsement," says Sean Scanlon, candidate for state Comptroller. "As a candidate and as Comptroller, I'll fight every day to expand health care access, make sure everyone in Connecticut has access to a secure retirement and ensure our state dollars are used in a responsible manner."

"I am running for Secretary of the State because I believe in building a democracy that is open to all voices, not just special interests," says Matt Lesser. "The Connecticut Working Families Party has long advocated for a more inclusive, more representative, more vibrant democracy in our state. I am proud to receive their support and endorsement."
These endorsements come at a critical time just days before the Democratic State Convention.
"In 2022, we are thrilled to be engaging early and remain determined to elect progressive champions to CT's highest offices," said Ganong. "And I'd be remiss if I didn't also thank the other candidates who applied for our endorsement for their commitment to public service and the hard work they've put into their campaigns."
The Working Families Party endorsement comes with candidate training and strategic campaign support. All candidates are carefully vetted to ensure that they reflect the views and values of Working Families' members, and will fight hard for racial, environmental, and economic justice, tax fairness, healthcare reform, strong public education system and immigration reform.