Announcing WFP Campaign Camp 2022!
With an out-of-control Supreme Court, an increasingly authoritarian Republican party, and a political elite in Washington paralyzed by fear, this is not a moment to idly stand by and wait for our government to act on our behalf.
As working-class communities continue to be crushed under the weight of stagnant wages, rising costs of living, mounting debt, environmental calamities, and the dismantlement of long-established rights and protections, this is a time to organize, mobilize, and empower each other to rise up in sustained mass resistance.
That's why we're excited to announce that this summer, the Working Families Party will be hosting Campaign Camp, a series of trainings designed to provide supporters, volunteers, and campaign staff with the tools they need to win elections and continue fighting for the poor, the working class, and the marginalized in moments like this.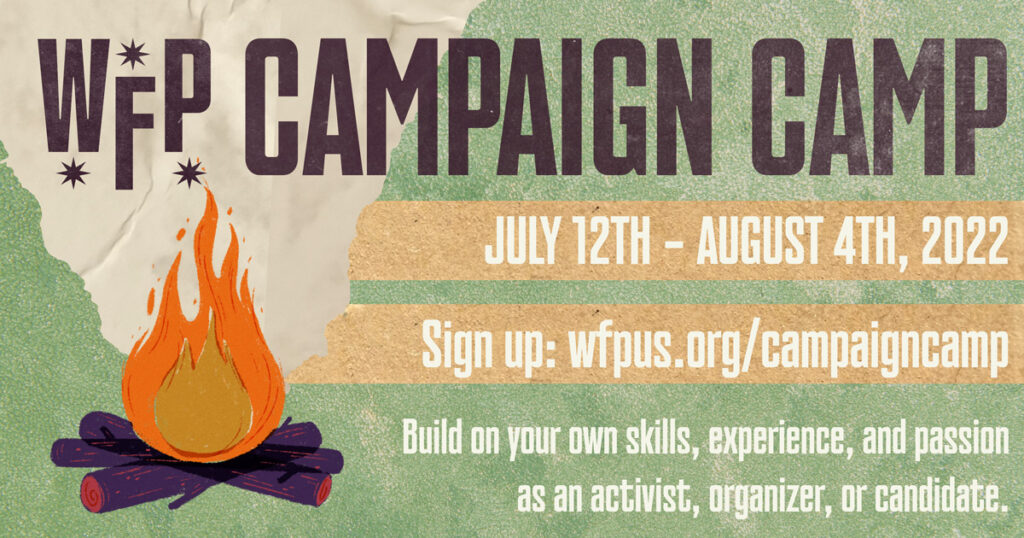 Click here to apply! Whether you're a candidate, thinking about running for office, or an activist looking to sharpen your political campaign skills, join WFP staff and other campaign experts at one or all of our training modules held every Tuesday and Thursday evening from July 12th to August 4th!
July 12: WFP Political Orientation and Theory – Who are we? WFP!

July 14: Targeting and Progressive Election Math

July 19: Fundraising for the Revolution

July 21: Field Planning, Volunteer Organizing, and Paid Voter Contact

July 26: Communications Message and Narrative Development

July 28: Communications Tactics and Message Delivery

August 2: Combatting Racism, Sexism, etc on the campaign trail

August 4: Hosting and Recruiting for Direct Voter Contact
You can read more about the training sessions here, and pick which ones you want to attend when you complete the application. Join us!