Poll: Yuh-Line Niou Tied for First in NY-10 Primary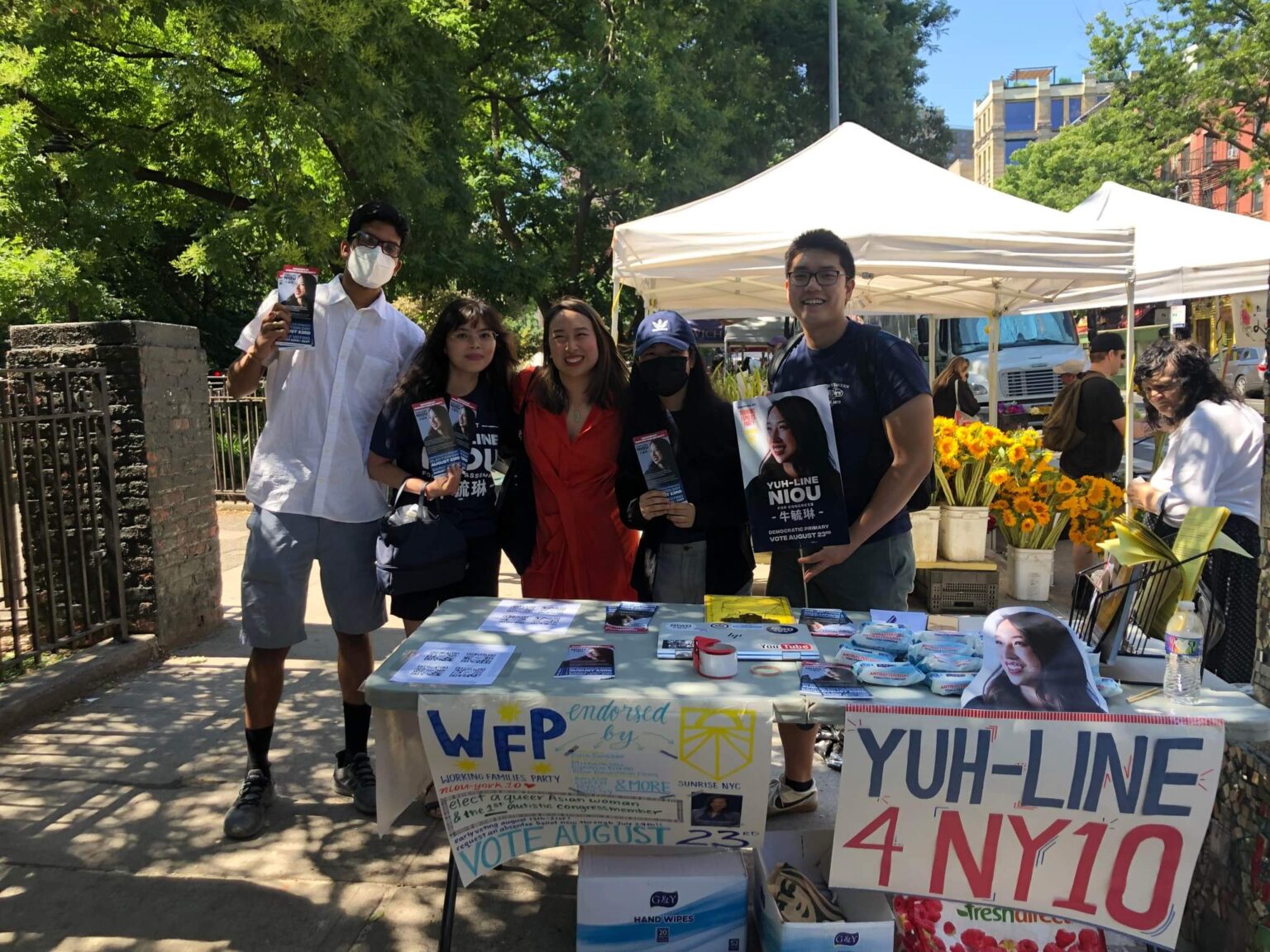 New Poll Shows Yuh-Line Niou Tied for First Place in NY-10 Democratic Primary
WFP Champion Niou Surging With a Clear Path to Victory Driven by Young People, AAPI Voters, and Progressives
For Immediate Release: Jul. 18, 2022
NEW YORK, NY — A new poll of voters in the Democratic primary for the 10th Congressional District shows Yuh-Line Niou as a leading candidate in a crowded field, her strength anchored by strong support from AAPI voters and young voters.
"Yuh-Line's record of political courage and bold leadership is resonating with voters across the district," said Sochie Nnaemeka, Director of the New York Working Families Party. "Voters want a champion who will fight for those unrepresented in the halls of power and will lead the charge for housing, climate investments, abortion rights and immigrant protections—even if that means taking on powerful special interests and complacent Democrats."
The poll was conducted by the Justice Research Group and commissioned by the New York Working Families Party and Yuh-Line for New York. 
Among its findings:
In an initial horse race question where voters were presented with all 15 candidates, Niou and Carlina Rivera are tied for first place, with 16% each. Among voters who say they will definitely vote, Niou leads Rivera 18% to 16%.
After hearing short biographies of five of the leading candidates, and being asked to choose among those five, Niou surges to a clear first place, capturing 30% of voters to 26% for Dan Goldman, 21% for Rivera, and 19% for Mondaire Jones.
Niou is the choice of 45% of AAPI voters and 32% of voters age 18-34.
WFP support for Niou is a big asset. 58% of NY-10 voters have a favorable opinion of WFP. Among self-described progressives, Yuh-line is the choice of 26% of voters, followed by 19% for Rivera.
Niou is a current New York State Assemblymember and active leader in the Lower East Side, organizing mass pandemic relief and successfully supporting progressive candidates around the city and state. She ran as a Working Families Party candidate in her insurgent bid for State Assembly in 2016. In the wake of the pandemic, Niou became a leading voice against anti-Asian hate. She has worked alongside WFP to advance progressive priorities in the State Legislature, including taxing the rich, historic tenant protections, justice-driven consumer protections, stopping predatory check cashing, and relief for immigrant workers.
The Working Families Party is on a winning streak in Congress this election cycle, with six WFP champions winning their Democratic primaries so far.
In PA-34, WFP champion Summer Lee won her fiercely contested primary despite a flood of dark money opposing her campaign. In Texas, WFP helped secure victories for Austin city councilmember and labor organizer Greg Casar in TX-35, state legislator and civil rights attorney Jasmine Crockett in TX-30, and progressive small business owner Michelle Vallejo in TX-15. In OR-5, the WFP played a major role in Jamie McLeod-Skinner's upset win over corporate Democrat Kurt Schrader. And in IL-03, WFP and its local partner United Working Families drove progressive State Rep. Delia Ramirez's commanding victory against an establishment-backed opponent.
ABOUT THE SURVEY:
N=636 interviews with likely Democratic primary voters were conducted in the 10th Congressional District between July 1 and July 11, 2022. The survey has been fielded using a combination of text-to-web and telephone calls, using a voter file with past turnout history information for voters and it carries a margin of error of +/- 3.9% at the 95% confidence interval. Interviews were conducted in English, Spanish and Chinese. Likely voters are identified using self-reported likelihood to vote, and previous voting history. The likely voter screen used presumes a low turnout based on the recent statewide primary election. The survey was weighted, balanced and sampled using age, race and ethnicity, gender, educational attainment and Assembly District.
###