Connecticut Working Families Party endorses Ned Lamont and Susan Bysiewicz for re-election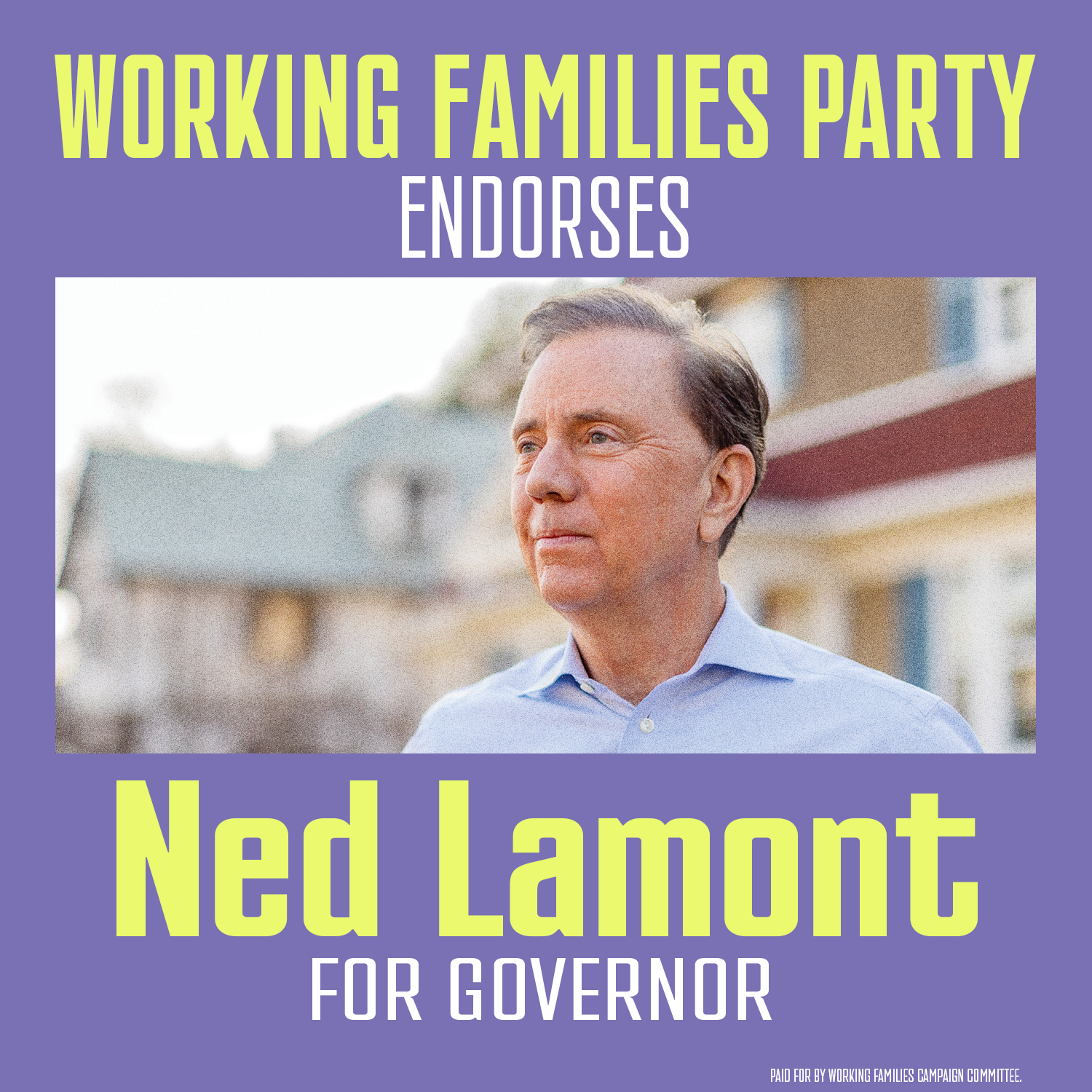 Hartford, Conn. – The Connecticut Working Families Party (WFP) announced today their endorsement of Governor Ned Lamont and Lieutenant Governor Susan Bysiewicz for a second term in office. With this endorsement, WFP recognizes past achievements of their administration, including passing paid family and medical leave, expanding HUSKY insurance, and raising the minimum wage to $15 an hour, as well as continued commitments to raise the standards for working people in Connecticut in their next term.
"During their first term, Governor Lamont and Lieutenant Governor Bysiewicz led the state with the steady hand and sound judgment necessary not just to respond to the worst economic crisis in a generation, but to move Connecticut forward," said Sarah Ganong, State Director of the Connecticut Working Families Party. "Their administration moved the needled for working people by signing groundbreaking pieces of legislation like paid family and medical leave, a $15 mínimum wage, expanded HUSKY coverage for undocumented children, and free community college. They understand that the foundation of a strong economy is working families, and the need to build an economy where everyone, no matter where they live or where they were born, can thrive. We look forward to winning in November and advancing policies for all, not just the wealthy and well-connected, in years to come."
With this endorsement, WFP is all-in on defeating the right-wing Republicans and their agenda in November. The party will mobilize volunteers and activists during the campaign, organizing a massive grassroots effort, as well as providing key strategic, communications, and field support to the campaign.
"I am proud to earn the endorsement of the Working Families Party and grateful for their years of advocacy on behalf," says Governor Ned Lamont. "Nearly four years ago, we worked together to set big goals, and have since taken big swings to achieve them– raising the minimum wage, establishing a paid family and medical leave program, and delivering the biggest tax cuts in our state's history to working people and their families. From pandemic response to climate change, we have worked together to ensure Connecticut is prepared to meet the moment and emerge a national leader in confronting shared challenges.

"With the help of the Working Families Party, I will continue to fight to ensure every resident in the state of Connecticut is provided with opportunity, dignity and justice."
"I am honored to be endorsed by the Working Families Party," says Lt. Governor Bysiewicz. " Collaborating with WFP has empowered Governor Lamont and I to fight for families across the state. Together, we've worked to raise the minimum wage, deliver paid family and medical leave, and created an abundance of new jobs with good benefits. Our partnership with WFP has made Connecticut a better place for all families and we look forward to pursuing our shared values over the next four years."
"Governor Lamont and Lt. Governor Bysiewicz understand that we need a state government that serves the many, not the privileged few, with solid finances and a firm commitment to protect our rights," said Ganong. "This November, we will have the choice between their leadership, and a Republican party enthralled by Donald Trump, running on a ticket of election deniers led by someone a fortune hollowing out communities with predatory loans and a party. There is much at stake – and we are proud to endorse Ned and Susan today and fight alongside them in this election".