Connecticut Working Families Party endorses William Tong for Attorney General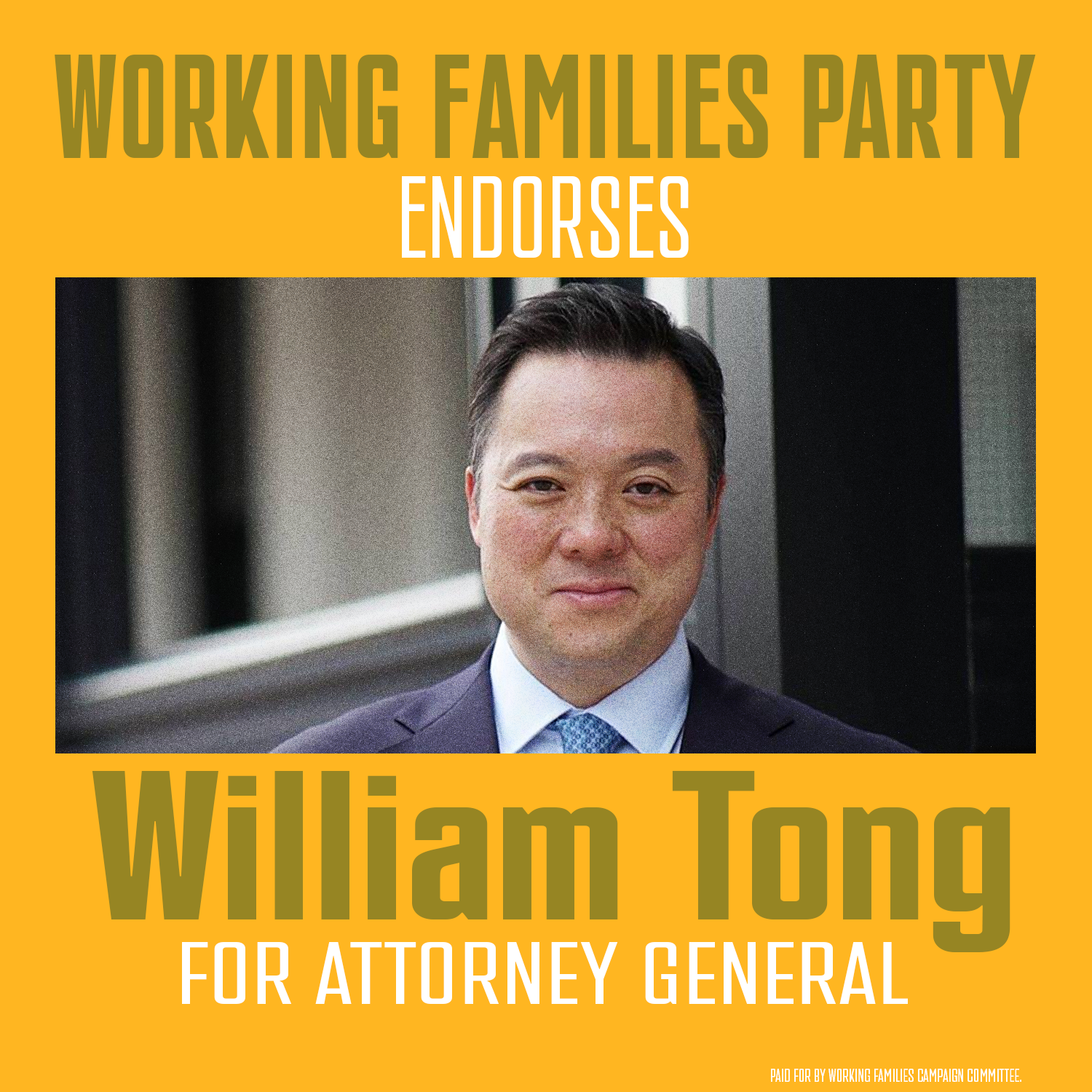 Hartford, Conn. – The Connecticut Working Families Party (WFP) announced today their endorsement of Attorney General William Tong, who is running for reelection in November. With this endorsement, Tong will appear on the WFP ballot line in the general election.
"Attorney General Tong has worked tirelessly to ensure that working families across the state, and in fact across the country, have someone in their corner," said Sarah Ganong, State Director of the Connecticut Working Families Party. "During his tenure as Attorney General, he has become a national leader in not just keeping those in power accountable but ensuring that the rights of everyone are secure and protected. William Tong understands that the fight for social justice does not stop after passing new laws; it requires vigilance and enforcement. We are proud to have him on our side, and proud to endorse him ahead of the election."
The party will mobilize volunteers and activists during the campaign, organizing a massive grassroots effort, as well as providing key strategic, communications, and field support to the campaign.
"I am honored to once again receive the endorsement of the Working Families Party," said Attorney General William Tong. "We all know that Connecticut families and residents are constantly squeezed by powerful forces that threaten and try to take advantage of us. Whether holding those responsible for the opioid addiction crisis or going after bad actors perpetrating frauds on the most vulnerable in our communities, I am committed to continue fighting on behalf of the working people in our state."
With this endorsement, WFP completes its list of constitutional officers endorsed for statewide races in the 2022 election. In addition to William Tong for Attorney General, WFP endorsed Ned Lamont for Governor, Susan Bysiewicz for Lieutenant Governor, Erick Russell for State Treasurer, Sean Scanlon for Comptroller, and Stephanie Thomas for Secretary of the State.
"This November election, Connecticut has a choice between an increasingly radical and plutocratic Republican Party that defines itself by its devotion to the former President, or a slew of progressive political leaders willing to look forward and fight for working families," said Ganong. "This November will be fighting for quality education, for affordable healthcare and housing, for opportunity and justice. And we will do so alongside these six leaders, building a better Connecticut."