Connecticut Working Families Party endorses Jahana Hayes, John Larson for Congress
Hartford, Conn. – The Connecticut Working Families Party (WFP) announced today their endorsement of U.S. Representatives Jahana Hayes and John Larson in their bids for reelection. With this endorsement, WFP recognizes the urgent need to preserve Democratic majorities in Congress and ensure victory for candidates who will put working people first.
"During the last two challenging years, Congress has passed landmark legislation to fight climate change, lower prescription drug costs, expand access to healthcare, and rebuild our infrastructure," said Sarah Ganong, State Director of the Connecticut Working Families Party. "The result has been the fastest recovery on record, with record job creation and strong economic growth. Representatives Hayes and Larson have championed many of these measures, expanding opportunity for working families across Connecticut. We are proud to support them with our endorsement."
With this endorsement, WFP makes clear its commitment to beat back the Republican extremist agenda in Washington this November. The party will mobilize volunteers and activists during the campaign, organizing a grassroots effort, as well as providing key strategic communications and field support.
"My first priority, since I was elected to Congress, has been to ensure that legislation passed in Washington reflects the needs of working families in CT," said Representative Hayes. "Putting families first with my votes to raise the minimum wage, lower costs for prescription drugs, improve climate mitigation strategies, open schools safely, provide universal childcare, pass gun violence prevention legislation and so much more. I am committed to continuing this work in Congress, and I am happy to have received the endorsement of the Connecticut Working Families Party"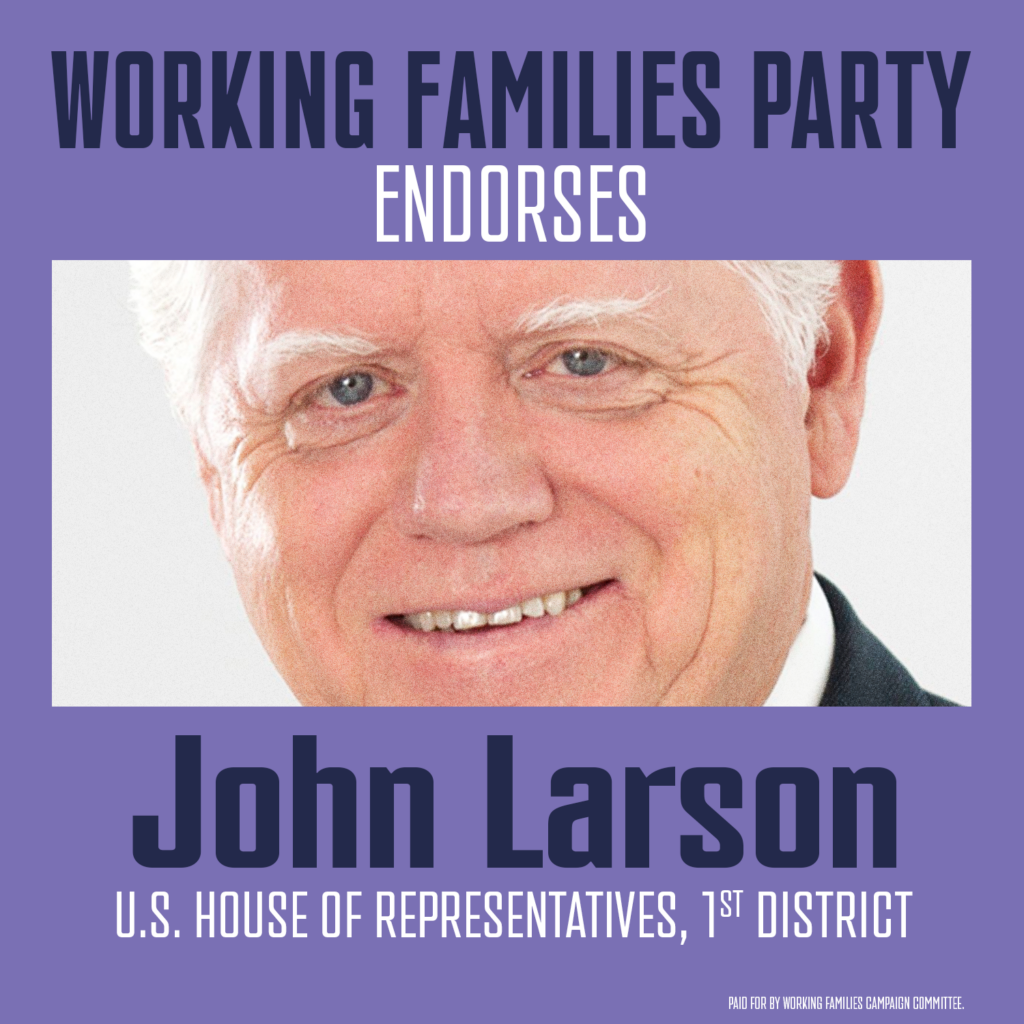 "I am proud to have earned the endorsement of WFP," says Representative Larson. "My priority, during my whole career, has been to stand up for working families in Connecticut and across the country. We had not just the strongest economic recovery on record, but also one that laid the foundations for the future – investing in infrastructure and green jobs, reducing prescription costs, and fighting to ensure that we build an economy for the many, not the few."
"After years of corruption and mismanagement under Trump, the Republican party has doubled down on their authoritarian, anti-democratic agenda," said Ganong. "We must fight and win in November to ensure that we have a House majority that will fight to protect our freedoms, not against them. There is no way around it: we must win this election."