PAWFP's Organizing Director Rev. Nicolas O'Rourke launches campaign for Philadelphia City Council
Reverend Nicolas O'Rourke, Organizing Director of the Pennsylvania Working Families Party and minister at Living Water United Church of Christ, has officially announced his campaign for an at-large seat on Philadelphia's City Council.
O'Rourke's 2023 run marks his second attempt to break the decades-long Republican stranglehold on the seat, which is one of the two at-large city council seats Philadelphia's Home Rule Charter requires to be held by candidates from a minority party.
Republicans held both seats for nearly 100 years until Working Families Party candidate and now-Councilmember Kendra Brooks won one of the two back in 2019 — becoming the first third-party candidate to win a seat on Philadelphia's City Council in generations.
Now, O'Rourke is hoping to make history once again by running again as a Working Families Party candidate on a platform that includes expanding affordable housing, ensuring public schools are fully-funded, ending racist police violence, and securing dignity for all workers.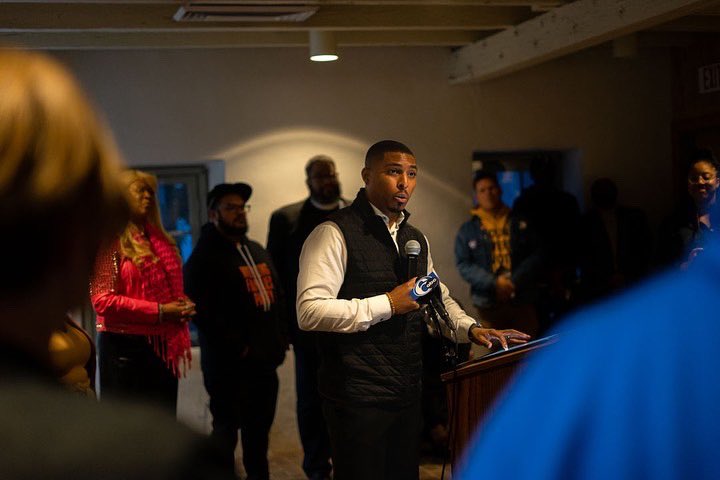 The day of his campaign launch, O'Rourke shared:
"I'm not a wealthy man. I'm not part of high-operating political machines, nor am I connected to the 'right' people to run for council. I grew up in a working, union-supported family. And that's why I'm running—to fight for a world where families like mine can thrive."
"I am looking to live what I believe and lead the creation of a just Philadelphia that works for the many, not the few."
"Community care and investment are the center of my platform. Our plans will house Philadelphians displaced due to gentrification, protect labor unions, prioritize solutions to the climate crisis and fund intervention programs to protect our streets from gun violence."
"No more business as usual. We don't have to accept unaffordable housing, gun violence, and the pain that comes with living paycheck to paycheck. We deserve a city that inspires us to dream."
If elected, O'Rourke's victory would put an end to any Republican influence in Philadelphia — flipping the last remaining Republican-held seat on the City Council to the Working Families Party — pushing the City Council to the left.