New York WFP Endorses 16 for NYC Council
For Immediate Release:
Thursday, February 16, 2023
NEW YORK, NY — The New York Working Families Party today announced their endorsements of 16 New York City Council candidates. 
"Our chapter members went through a careful and deliberate endorsement process, interviewing dozens of candidates for City Council. We're thrilled to endorse 16 outstanding legislators for reelection," said Syed Ali, NYWFP State Committee Member and Brooklyn Chapter leader. "Our endorsed candidates have worked in authentic partnership with grassroots communities, taken principled stands on working people's issues, and are committed to representing the interests of all New Yorkers, not just the wealthy few."
"The New York City Council is a co-equal branch of government with a critical role to pass budgets, enact laws that strengthen our city, and to serve as a check on the executive. In any context, but particularly with a Mayor intent on cutting down public services and critical agencies, we need a strong New York City Council ready to push the kind of policies that will make life better and more affordable for working families," said Sochie Nnaemeka, Director of the New York Working Families Party. "To create a safe and thriving New York, our communities need deep investments, not deep cuts."
Over the past two years, WFP Councilmembers have worked to successfully expand abortion access in New York City, increase services to survivors of domestic violence, improve access to Narcan in bars and clubs, mitigate the rat crisis, among other accomplishments.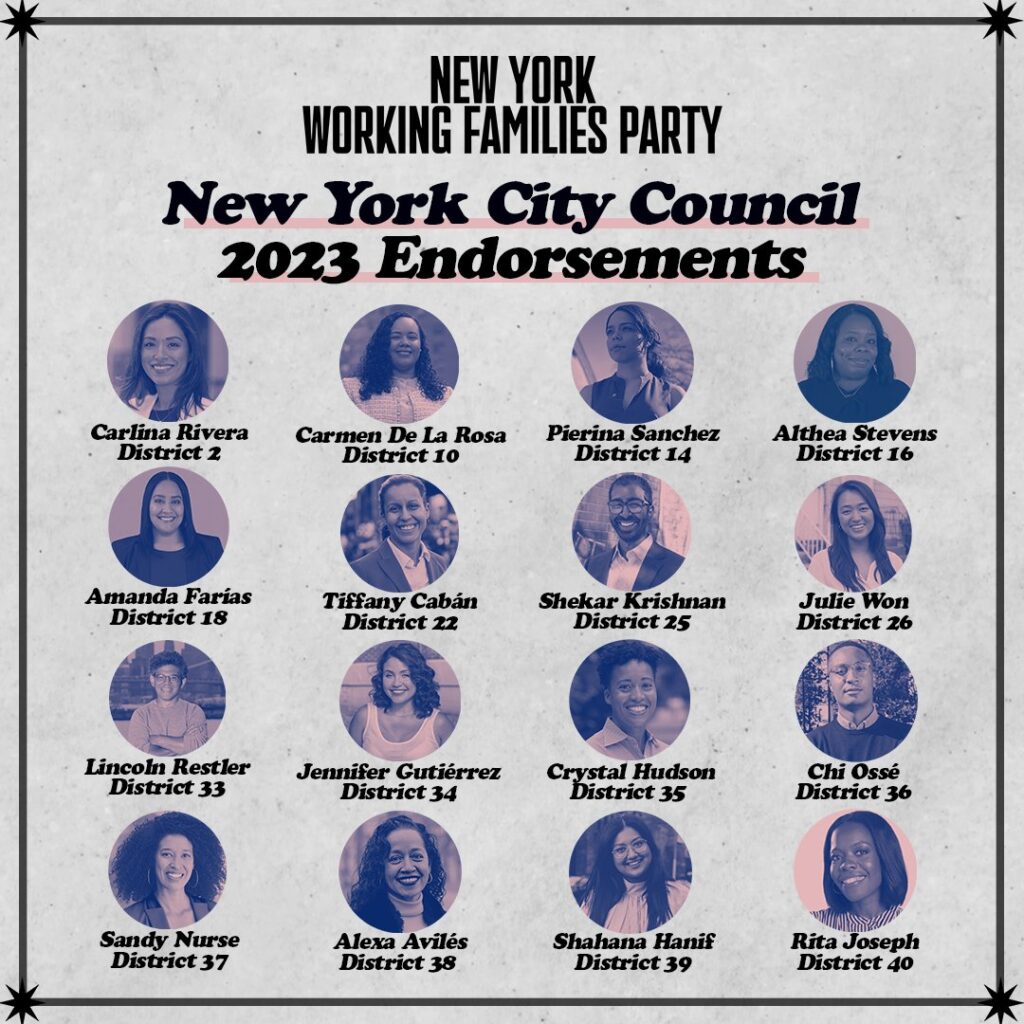 New York City Council Endorsements:
Carlina Rivera (District 2)
Carmen de la Rosa (District 10)
Pierina Sanchez (District 14)
Althea Stevens (District 16)
Amanda Farías (District 18)
Tiffany Cabán (District 22)
Shekar Krishnan (District 25)
Julie Won (District 26)
Lincoln Restler (District 33)
Jennifer Gutiérrez (District 34)
Crystal Hudson (District 35)
Chi Ossé (District 36)
Sandy Nurse (District 37)
Alexa Avilés (District 38)
Shahana Hanif (District 39)
Rita Joseph (District 40)
Background:
The NYWFP engages in a deeply participatory, multi-step endorsement process. Hundreds of party members and affiliates from across the city have participated in the candidate endorsement process this year.
In 2021, the NYWFP endorsed one of its most diverse and progressive slates in history, electing a dozen new New York City Councilmembers, nine of whom are women of color.