WFP Endorses Slate of Philadelphia City Council Candidates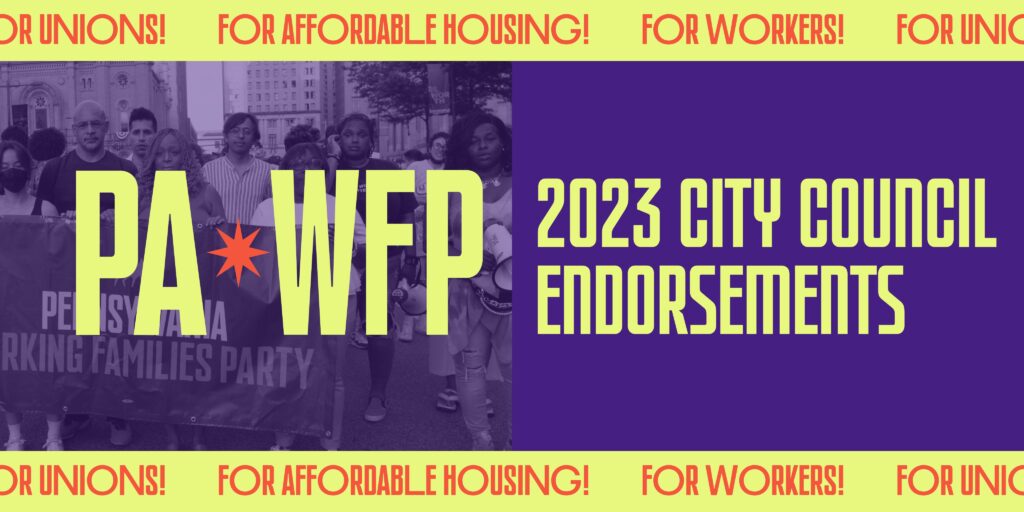 For Immediate Release: Tuesday, Feb. 14, 2023
Philadelphia, PA — The Working Families Party endorsed six candidates for city council in the upcoming May 16 Democratic primary as part of its bid to reshape Philadelphia's political landscape. Endorsed candidates include Jamie Gauthier in District 3, Seth Anderson-Oberman in District 8, and council-at-large candidates Isaiah Thomas, Erika Almirón, Amanda McIllmurray, and Rue Landau.
"Each of these Working Families Democrats has community roots and a commitment to making our city work for all of us, not just the wealthy or well-connected," said Stephen Drain, Philadelphia Political Director of the Working Families Party. "Philadelphia is a city of fighters, and we've never been more ready to fight for affordable homes, good-paying jobs, and strong, safe communities. If our slate of working families champions wins in May, and we oust the Republican Party from City Hall in November, Philadelphia politics will never be the same."
The endorsements come on the first day of petitioning for ballot access, and the grassroots political party pledged to mobilize its organizers, members, and volunteers to help the slate of progressive champions prevail.
"I am honored and grateful to receive this endorsement," said Councilmember Gauthier. "I am proud to stand alongside the Working Families Party in the fight for people-centered, place-based solutions to gun violence, for affordable housing and good public schools, and for good jobs in West and Southwest Philadelphia."
The endorsements come on the heels of WFP's endorsement of mayoral candidate Helen Gym earlier last month and the launch of an unprecedented general election effort to supplant the Republican Party as the dominant minority party in the city.
"I am incredibly proud and excited to have earned the endorsement of WFP," said Seth Anderson-Oberman. "I've always considered myself a movement candidate — being part of and accountable to multi-racial, working-class movements for transformational social, political, and economic change. The support of WFP is confirmation that they're looking at our campaign the same way. I am thrilled to have the backing of an organization that has such a proven track record of helping working-class candidates of color build power and win for our communities!"
The Working Families Party is the grassroots political party of the multiracial working class, fighting for a nation that cares for all of us. Over the past two decades, it has elected hundreds of progressive leaders at every level of government in states across the country. In Philadelphia, WFP made history in 2019 when City Councilmember Kendra Brooks claimed an at-large council seat historically reserved for Republicans. This November, WFP will compete for two more at-large seats and a city commissioner seat to solidify its status as Philadelphia's dominant minority party.
"To receive the WFP endorsement means that there is a powerful political organization that sees me," said Erika Almirón. "They honor my values of fighting for working class families as important and I take that seriously in this race. Philadelphia is at a crossroads and we need elected officials and organizations willing to work together to hold up and defend the people who built this city. WFP is that organization."
Since it was established in 2015, the Pennsylvania Working Families Party has helped to elect a host of Working Families Democrats to city, state, and federal government, from Chris Rabb and Tarik Khan to Larry Krasner and John Fetterman. The Working Families Party played a central role in the defense against Republicans' efforts to overturn the will of the Philadelphia voters who backed Joe Biden in 2020.
"The Working Families Party and I have fought together for poor and working families like mine at the ballot box and in the streets for years," said Amanda McIllmurray. "We've taken power out of the hands of corporations, political bosses, and Republicans and put it back into the hands of our neighbors. They're a political powerhouse. I'm honored to have their endorsement in my race for City Council At Large as we continue to fight for a better future for all Philadelphians regardless of race, zip code, or income.
Nationally, the Working Families Party is building a movement of everyday people fighting for a nation that cares for all of us. It is organizing in more than a dozen states and wages and wins electoral campaigns in every part of the country. Last year, it helped Working Families Democrats win six competitive Congressional primaries, strengthening the Progressive Caucus in the House of Representatives.
"The endorsement of the Working Families Party is an honor and speaks to my campaign's unwavering commitment to working people as well as my proven track record of helping Philadelphia's most vulnerable communities," said Rue Landau. "I am proud to have earned their support. If elected, I will be a fierce advocate for a Philadelphia that works for all of us — not just the wealthy or well-connected."