WFP Hartford candidates launch reelection campaign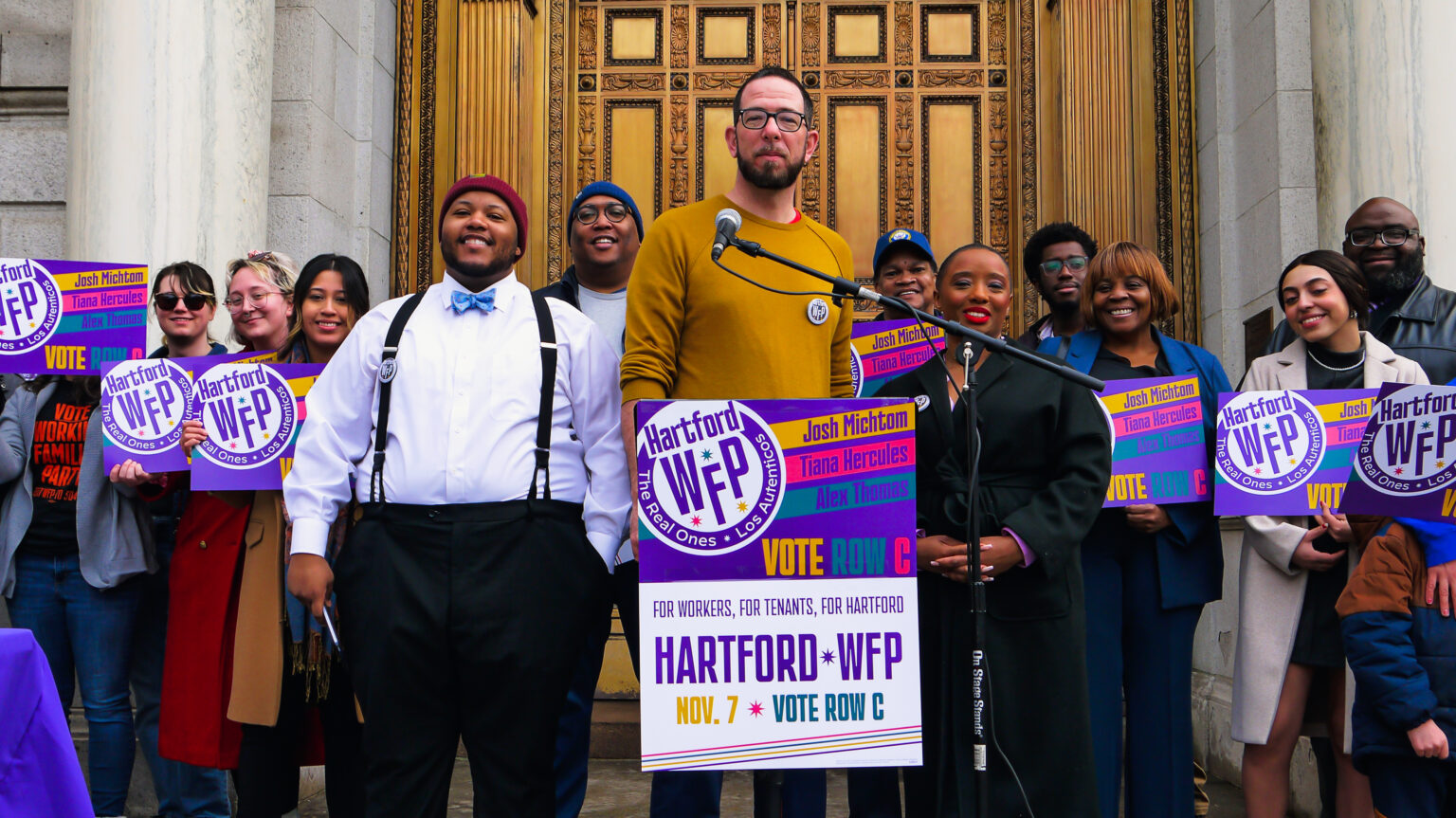 Hartford, Conn – Working Families Party Hartford City Councilmembers Josh Michtom and Tiana Hercules announced their intention to seek reelection in 2023 along with Pastor Alex Thomas, their new running mate. Candidates and supporters gathered at Hartford City Hall on President´s Day to discuss their collective vision for Hartford and give details about their upcoming campaign.
First elected in 2019 alongside former Councilwoman Wildaliz Bermúdez, Josh Michtom is currently serving in his fourth year on Hartford City Council, and has championed issues such as Police Accountability, Public Transportation, and Immigrant Rights.
"Thanks to broad support from everyday Hartford residents, our two-person Minority Party has been able to achieve important steps in progress for Hartford residents and defend against the sometimes undemocratic and opaque nature of politics in our city." Said Michtom, Minority Party Leader for WFP on City Council. "We are proud of our record and our reputation, and we're ready to continue working to build a better Hartford, where everyone can thrive."
Councilwoman Tiana Hercules stepped into her role in 2022 after being selected and endorsed by then-Councilwoman Bermúdez and the Working Families Party to finish her term. One of her keystone issues during the past year was improving housing conditions for Hartford tenants.
"I've learned a lot in my time on the City Council so far, but our work is not over. Helping residents find real solutions to the problems affecting their lives has been a responsibility I take very seriously. I'm grateful for the victories we've been able to win for the people, such as increased investment in City Housing inspectors, and I know we will achieve much more with Pastor Alex joining us."

Councilwoman Tiana Hercules
The newest member of their slate, Pastor Alex Thomas is no stranger at all to the Hartford community. Born and raised in the city, Thomas grew up on Vine Street in the North End, attended Hartford Public Schools, and has been active in community organizations such as Hartford City Mission, the Hartford Artists Collective, & the Wilson-Gray YMCA. He is currently the Associate Pastor at South Church in Hartford, where he is the first black pastor that the church has ever had.
Thomas says he intends to run on a platform of public safety through enrichment resources for young people in Hartford. Through his past work as a youth pastor, program director, and camp counselor, Alex has a connection and understanding of Hartford's youth that informs his campaign priorities, which include increased city recreational programs, improved parks and public spaces, and safe, affordable housing.
"It is an absolute honor to run for office alongside two leaders like Josh and Tiana with a proven track record of transparency, honesty, and hard work for the people of Hartford," said Thomas. "I am running for City Council because the young people that I work with deserve to live in a place where they are valued and where they are safe."
All three candidates will be working together with the same campaign staff. They will seek endorsement from the Connecticut Working Families Party later this year. Updates about their campaign, including opportunities to donate and volunteer, will be shared on HartfordWFP.com.