New York Working Families
The New York Working Families Party is New York's progressive political party. The Working Families Party is focused on tackling the political, economic, and educational inequality that deprive working and middle class families of opportunity. Our vision is to build a New York that is fair for all of us, not just the wealthy and well-connected.
More
We recruit, train, and elect the next generation of progressive leaders to local and state office — candidates who fight for the needs of working class, middle class and poor families. We're known for our legislative fights on issues that cut to the core of New Yorkers' concerns today–raising the minimum wage and guaranteeing paid sick days, fighting the influence of big money over politics, and defending quality public schools. Nearly a quarter of a million New Yorkers voted on the Working Families Party ballot line in 2012.
Voters across the state vote on the Working Families Party ballot line because they want to see elected leaders who care more about the needs of every day voters than the demands of Wall Street billionaires and corporate lobbyists. That's why hundreds of thousands of Working Families voters are helping to build a stronger progressive movement.
THE LATEST FROM New York: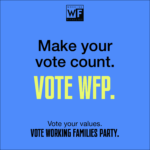 We need to beat Trump — and New York also needs so much more than that. That's why we're asking you to vote for Joe Biden on the Working Families Party line — the party fighting to tax the rich, divest ... More