CT WFP endorses Senator Richard Blumenthal for re-election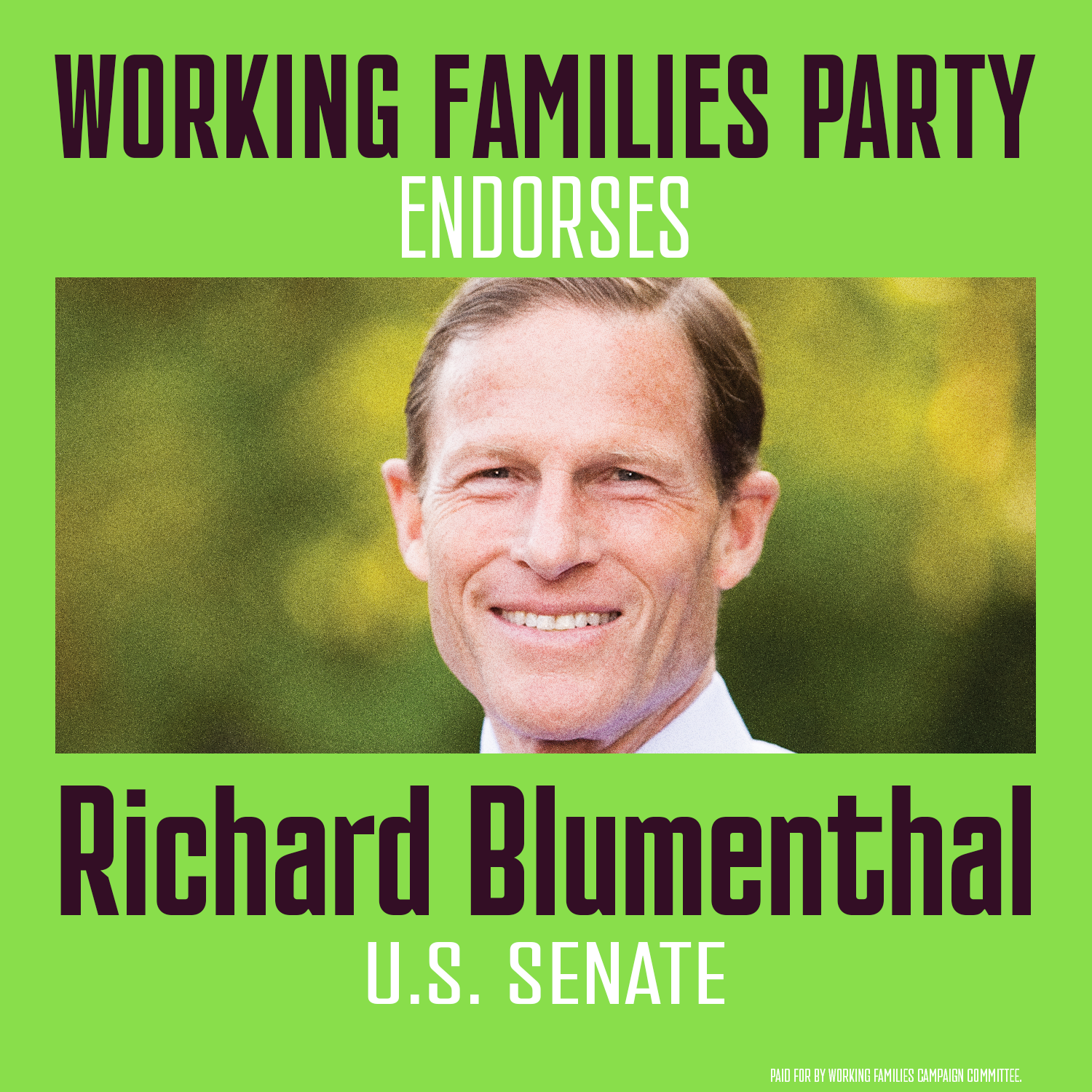 Hartford, Conn. – The Connecticut Working Families Party (WFP) announced today their endorsement of US Senator Richard Blumenthal. With this endorsement, WFP recognizes the critical importance of preserving a democratic majority in Congress.
"During his whole career, Senator Blumenthal has distinguished himself as a champion for working families," said Sarah Ganong, State Director of the Connecticut Working Families Party. "He has been an extraordinary advocate for patients' rights, leading the fight to lower prescription drugs. He has been a vocal critic of Big Oil, leading efforts to keep the fossil fuel industry accountable. We are proud to endorse him and look forward to fighting alongside him in Washington.
With this endorsement, WFP is all-in on defeating the right-wing Republicans and their agenda in November. The party will mobilize volunteers and activists during the campaign, organizing a massive grassroots effort, as well as providing key strategic communications and field support to the campaign.
"I am so proud to have earned the endorsement of the Working Families Party," said Senator Richard Blumenthal. "I've spent my career standing up to powerful interests on behalf of working families across Connecticut and the country. We have made immense progress to lower the cost of prescription drugs, fight big oil, and stand up to special interests, all to put money back in the pockets of everyday Americans. Together, we will continue to work towards a more equitable future for all – not just the wealthy and well-connected."
"The Republican party has become the party of Donald Trump, and Leora Levy is the clearest example of a candidate that would put the whims of a failed former President ahead of those of her constituents," said Ganong. "This November, we will have the choice between someone that has fought and won against special interests and someone that will not even defend democracy and the rule of law. We need Richard Blumenthal in the US Senate, not another MAGA extremist."